i can't believe i haven't blogged about this yet! well, maybe i can, b/c i have been very lax in updating my blog with ANY news lately. but seriously? i haven't told you that samantha was casted a few weeks ago? i can only WISH that she was CASTED for a commercial or tv show or movie. instead, her casting involved an appointment, a doctor (or two), a sling and more. it all happened three weeks ago….
on thursday, august 16, i had an appointment to get my hair done (colored, trimmed, etc.). it was with a new (to me) stylist. she's from our church and her salon is LITERALLY around the corner from my house (if it weren't so darn hot i would've walked there). my sweet friend, Jenni, came to my house with her two daughters (Lacey, age 4 and Jada, age 9 months). She fed lunch to our FOUR girls (her two and my two) and then napped the younger two while the older two played and played and played….
after my hair appointment, all was well so i zipped off to Costco for a speedy run through the store for a few necessities. as i was driving home, Jenni texted me that Sam fell, hurt her arm really bad, was crying hysterically and couldn't be calmed down. THAT was weird.
so i got home and spent a few HOURS sitting on the couch with sam. she was MISERABLE. when dave came home from work, i had him look at her arm. and instead of our planned evening of dropping all THREE kids with our friends John & Lynn and heading to Curriculum Night at Davey's school, i dropped TWO kids with John & Lynn and i took sam to the local urgent care facility while dave attended Curriculum Night alone. an exam and some x-rays later revealed a potentially fractured elbow.
she got wrapped and was given a sling and a referral for a pediatric orthopedist: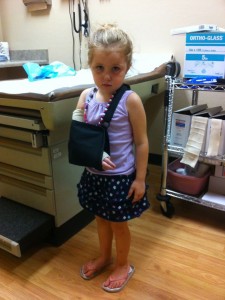 none of the orthopedists were available on friday (i called two different practices) so an appointment was scheduled for monday and i spent the weekend praying her elbow wasn't really fractured. pain-wise, she was doing fine: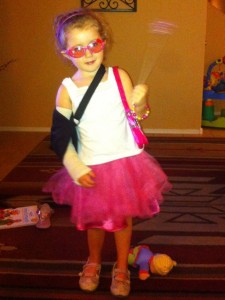 monday the 20th arrived and we headed up to Mesa to meet Dr. Hratsky and learn Sam's fate. he confirmed the fracture. BOO! sam was given a samples swatch to choose her cast color: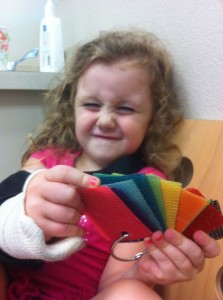 and then he and a nurse had to "SET" Sam's arm (more than just a little bit uncomfortable for her):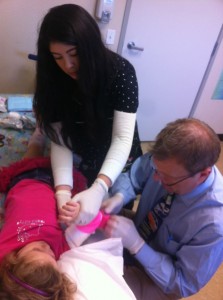 but, as you can tell from the photo, she chose a PINK cast. and, rest assured, she was well-drugged for the "setting" process.
then the assistant pulled out the saw and sliced open the cast to allow for the anticipated SWELLING of sam's arm: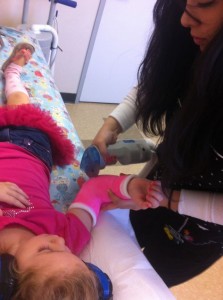 then it was time for x-rays to make sure the arm was set properly: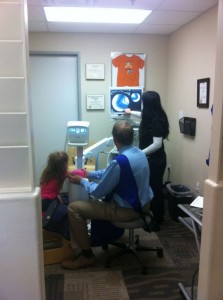 they were happy with the results. so thankful for that!
and then we were sent home for a few days (a follow-up appointment was scheduled for Friday). the assistant told us samantha could ask for GLITTER on her cast when we returned.
glitter?
seriously?
yep. glitter. seriously.
and she did NOT forget. and she DID tell EVERYONE we talked to on Monday. and Tuesday. and Wednesday and Thursday. EVERY ONE!
and FINALLY it was Friday. alex was very helpful in providing moral support to her baby doll and samantha's baby doll (both of whom accompanied us to the appointment):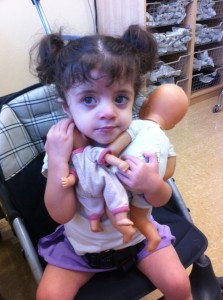 and samantha was all smiles and sparkles glitter and sunshine after her  formerly "vented" cast was re-wrapped in MORE pink (AND GLITTER!):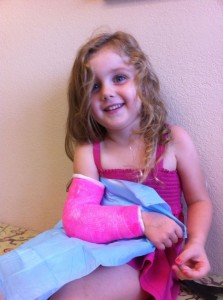 and i was elated to discover that she only had to wear it for THREE weeks. three weeks? yep. just THREE weeks. so a week from tomorrow we go BACK to the orthopedist and get the cast removed. we can survive one more week with that thing, right?!
over the past three weeks, the "what happened?!" story has been fleshed out in a bit more detail. sam and lacey were playing in the backyard when it happened. our backyard had not yet been cleaned up or organized from the move. samantha climbed up on the porch swing which was simply resting on top of the sand&water table. she leaned back (against the back of the porch swing) and the whole thing flipped over, off the san&water table and onto the gravel ground. she was actually trapped under the porch swing until Jenni could rescue her.
Jenni felt A.W.F.U.L that Sam got hurt. and that was BEFORE we realized sam's elbow was fractured!