our backyard is making a transformation.
last week it still looked like this: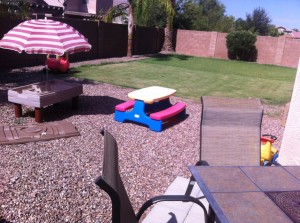 there's a lot of grass there in the background. and it looks pretty.
then, one morning, around 6am (which is earlier than "the crack of dawn" in our family), some equipment showed up and some grass and bricks were removed: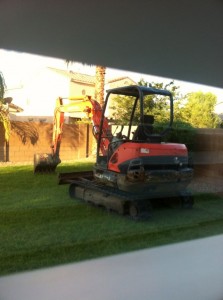 we thought that the digging would begin the same day. but digging is a different crew from grass removal. seriously.
so a few days later, at 5:45 am, the digging started: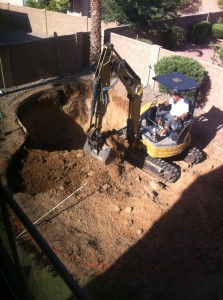 i wanted to complain about the early arrival, but i was so glad they were FINALLY starting on our pool that i couldn't bring myself to call the pool company. thankfully, a neighbor did! we've been advised that there will not be any LOUD work on our pool starting before 7am! many, MANY thanks to the anonymous neighbor who called and complained. i am VERY thankful he/she did!
by about 2 o'clock, this is what our pool looked like: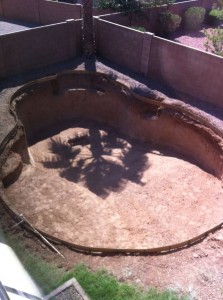 ahhhhh. finally, it seems like this "pool thing" is ACTUALLY happening!
next up: plumbing, which happened this week: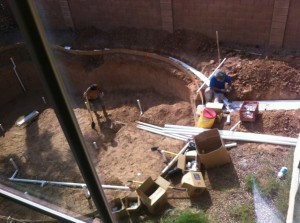 and then rebar, which was started today but ended early (and incomplete) due to rain AND lightning: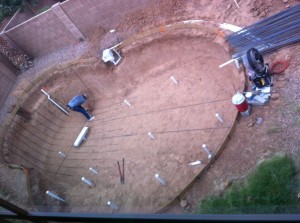 hopefully the rebar work will resume (and finish) on monday because then the next big thing is CONCRETE!!!!! hooray!
***and nana, i'm sorry i've been neglecting the blog. we're learning our new routines and schedules. i'm still unpacking boxes, filing, finding homes for objects, shopping for furniture and bedding and more. and this is all on top of the regular grocery shopping, meal planning, house cleaning routine we have! i have been remiss in the PHOTOGRAPHY department. i will try to be better. but this is life right now. my apologies!