these photos are a few weeks old now, but i don't think i've shared them yet. and some of them are poor quality.
davey was over-the-moon excited when his bunk bed FINALLY arrived!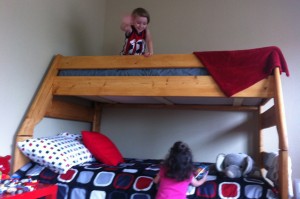 samantha didn't take long to learn how to climb up the ladder side. and alex loves climbing onto the bottom bunk.
alex seems content to have her big girl bed in her room instead of a crib….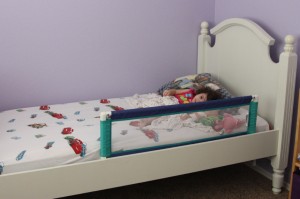 the bed has been moved since this photo AND it has a guard rail on BOTH sides.  :)   for the most part, she stays in her bed at night. it's naptime that can be a bit more challenging. at least 1-2x a week i have to physically put her back into her bed 1-5x for her nap. but at least she usually plays QUIETLY in her room when she's being naughty.
once the beds were delivered and moved to the appropriate room and location IN the room, i discovered a need for a new home for davey's legos (they were in an under-the-bed rubbermaid tote) and samantha's doll items (which had no "home" other than a giant cardboard (aka: moving) box. we found some great storage at IKEA (where else?!) for these items. the photos are BAAAAAAAD (camera phone paired with poor lighting = ugh!) but you get the idea. davey seems QUITE THRILLED with having a place to store AND BUILD his lego creations: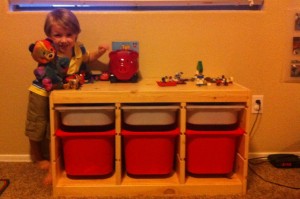 and while yes, there are legos in EVERY one of those bucket/drawers, they are large enough that his legos could all be piled into 3 drawers leaving room for other toys (tinker toys? lincoln logs?) to come out of the linen closet-turned overflow toy/game closet. for now, though, he's happy with his old school legos (almost ALL of his legos are left overs from his dad, uncle jeff and uncle tom's childhoods).
we purchased the same type of unit for samantha's room for her dolls, their clothing and accessories….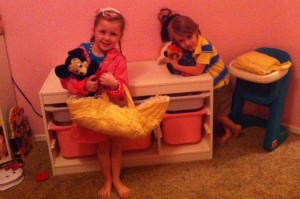 and she loves it, too!
i'm just now remembering that you've never had a tour of the UPSTAIRS of the house yet, have you? guess i'll have to get on that soon.