yep. you read that title correctly. he's here! he's here! "regular" uncle john (not to be confused with Great Uncle Jon or Cousin Jonathan) is here for a visit! the kids are excited. I'M EXCITED. it's not often that i get to see my brother. once a year, at most.
he arrived early though my e-mail didn't tell me until he'd already been hanging out at the airport for an hour or so!
and he brought PRESENTS (all for the kids). i think he did a GREAT job picking out their gifts. a touch&feel book and stacking "flowers" for alex; foam letters for the bathtub and a gyroscope for samantha; a balsa (?) wood airplane and NYC vehicles (think matchbox style) set. additionally, davey and sam received slap bracelet watches.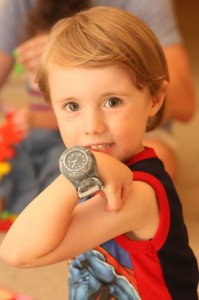 well done, brother, well done.
i plan to spend the next two and a half days with the kids and uncle john… we plan to swim, swim, eat, swim, swim, swim, swim, eat and swim some more. we'll show him our new home and maybe a few other attractions. it's supposed to be 111* tomorrow and tuesday, so i think other than being outside in the water, we'll have to be INSIDE in the air conditioning!