it was just over a year ago that samantha (or was it Sarah Ball?) invented "boom high fives" at the Bellingham Bells Baseball game. Last night, with the dark of night coming to us sooner in AZ than it did in WA, we created some new "booms!" in the family. just a small variety pack of firecrackers and some sparklers purchased at the grocery store,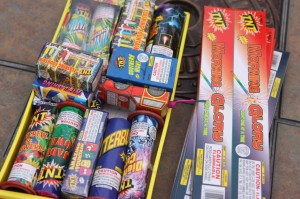 but to davey & samantha, it was as good as any large city-provided fireworks display!
the above photo of alex is not a true representation of her response to the firecrackers. she was okay with her siblings playing with the sparklers. but the fire crackers? nope. they freaked her out. so she went inside and watched Yo Gabba Gabba while the rest of us were outside!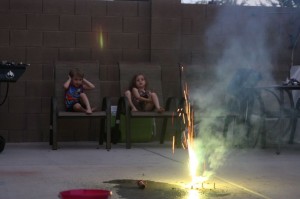 most of them shot sparkles and made small popping and cracking noises. but there were a few "booms!" in there and i LOVE this next photo: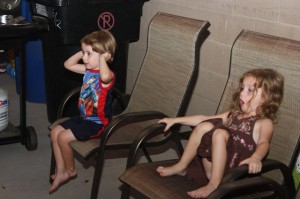 it was a festive evening and the best parts? we didn't have to fight the crowds for seats or parking AND the kids were IN BED before 9pm!  :)