we had a very successful birthday party for Alex and Davey on saturday. the weather warmed up and we were able to spend the entire evening outside! earlier in the week (monday night, in fact), dave and i discussed the birthdays and the party and we used our Amazon Prime shipping account to our advantage – we ordered the birthday presents and we breathed a sigh of relief at how easy it was. the one "catch" was i was OBSESSED with these Avengers cupcake topper rings: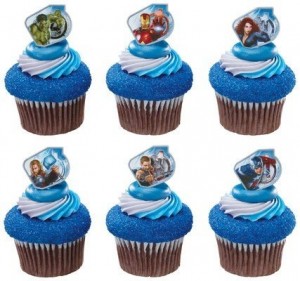 (photo from amazon.com)
pretty cool, aren't they? we were doing an Avengers themed party for Davey and we were off-setting it with a Yo Gabba Gabba theme for Alex. I didn't want to order plates and napkins and consumables so I opted to have the desserts set the theme for the party. Unfortunately, even though the rings were available on Prime shipping, they weren't going to arrive in time for the party. so i ordered presents and Yo Gabba Gabba bath squirters (as cake toppers) and had them shipped to dave's parents' house. then i searched walmart.com and target.com and amazon and finally ebay for the rings and a way to get them to the house in time for the party. and then it dawned on me: expedited shipping! so i logged back in to my amazon account, ordered the rings, chose expedited shipping and then i went to bed feeling content about my purchases.
fast forward two full days. at 10pm on wednesday i checked my amazon account. the rings were supposed to arrive that day, but we had no package and no mail. and then it dawned on me. yep. i forgot to change my mailing address. so i paid expedited shipping to have the rings arrive at our home in Arizona – 1600 miles away! i almost sent my friend on a fools' errand to ship them (overnight!) to me here in WA and then reason prevailed. i gave up on the rings that were so important to me.
on friday, i hunted high and low around whatcom county for the avengers rings. or for SOMETHING i could use as cupcake toppers. all i found were erasers in the dollar spot at target. i did NOT want to put erasers on the cupcakes…. might taint the flavor, yeah? so i did the next best thing: i called my friend Carrilee and explained my dilemma to her. she told me i could surely find what i wanted/needed at Walmart but i could also put the erasers on a toothpick. GENIUS LIGHTBULB MOMENT! i DID go to walmart where i found stickers (for teachers to use, but i bought them anyway) for the goody bags and then i realized i could use them as cupcake toppers, too!
so here you go. my tutorial on turning 8 erasers ($1.00) and two partial sheets of stickers ($0.88 for 4 sheets) into cupcake toppers with the assistance of toothpicks, scissors and some cardboard. first, gather your supplies: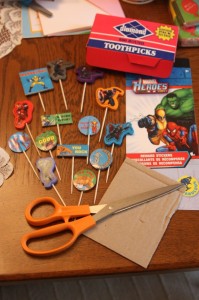 insert a toothpick (using a "twisting" motion) into the "bottom" of each eraser: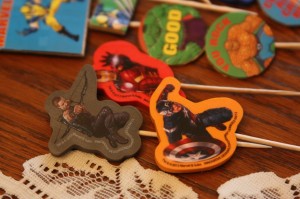 then you find two Super Hero stickers of the same shape (two circles, two squares, etc) and you adhere one sticker to a piece of cardboard. Trim around it with your scissors. Flip it over (so you see just cardboard) and lay the toothpick on the cardboard. Use the second sticker to adhere the toothpick to the cardboard.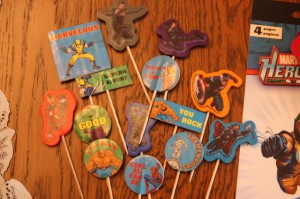 (my apologies for the super-glare photo).
So now you have your toppers but you need the cupcakes. Purchase your gluten free cake mix (we wanted daddy and auntie Taryn to enjoy some birthday desserts at the party) and follow the directions on the package to mix, pour: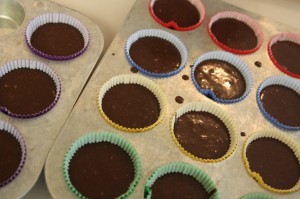 bake: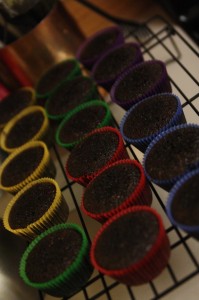 and cool. Side note: i checked the grocery store(s), walmart and target for good cupcake liners. i found these at Target.
next, take your white frosting (from a can – i'm all about EASY for a kids' party) and some food coloring and go to town. my initial attempt, however, was a major fail. i thought it would be easiest to mix my frosting colors in ziplock baggies and then i could just cut off the corner to actually "frost" the cupcakes. it turns out that you make really warm/soft frosting that's not likely to spread OR squeeze out of a baggie: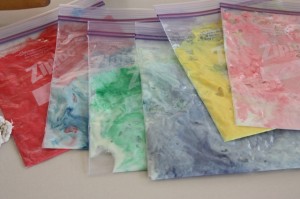 so then you send your mother-in-law to the store to pick up another can and you mix the colors in small tea cups: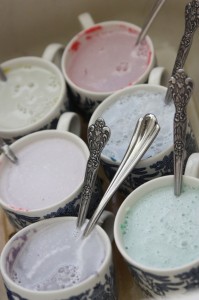 (this is AFTER i'd used the frosting and had frosted the cupcakes. sorry i forgot to take a photo of the colors IN the cups!)
and then you scoop the colored frosting (that you mixed with a spoon!) into the ziplock baggies and cut off the tip and swirl the frosting onto the cupcakes: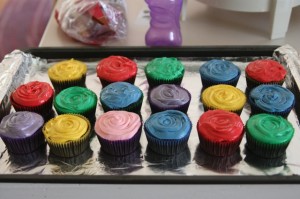 whew! finally SOMETHING worked well!
and then you add your homemade toppers: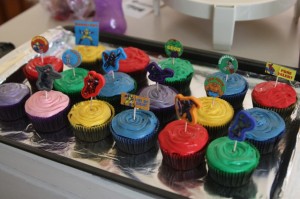 and then a few hours later you realize you forgot to add the sprinkles you purchased so you try to add them to the cupcakes but the frosting is already "set" a bit (aka: hardened) and not many sprinkles stick: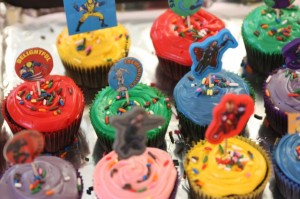 but you smile because you realize that it's enough sprinkles to make the kids happy anyway.
and then you search high and low for the candle sets you found at the dollar store. and you add the special birthday candles to the cupcakes just before singing time:
and you breathe a sigh of relief as everyone compliments you on your beautiful birthday cupcakes. and then it's time to SING and blow out the candles: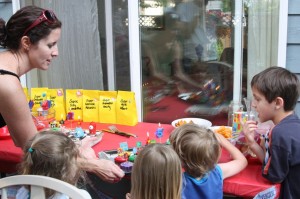 and enjoy the tasty treats that caused you some stress!
but remember, that was only ONE dessert. the Avengers. next up: ice cream dessert (with only one photo – the end product):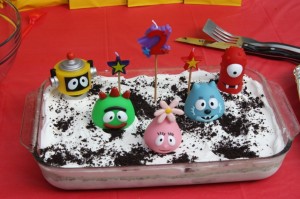 this dessert was not without it's own issues, as well, but in short, it's oreo cookie crumbs (we used gluten free "not-quite-oreos") and then homemade hot fudge sauce (i burned/scorched the first batch which required dave to make a second trip to the store to purchase more condensed milk and bakers' chocolate – he had to go to the store the first time for condensed milk when he decided he wanted "hot fudge sauce" in the middle rather than "chocolate sauce"). you top that with mint chocolate chip ice cream (buy the cheap kind in a box, soften it in the fridge or on the counter and use a knife to cut it and lay it in the pan). and then a tub of cool whip tops the dessert followed by more crushed oreo cookie sprinkles.
and then, to make the dessert appropriate for a Yo Gabba Gabba birthday party, you add Yo Gabba Gabba bath squirters purchased from Amazon. and the special birthday candles found at the dollar store. yum yum yum!!!!