alex has a birthday buddy. did you remember that? i'm bummed that we moved 1600 miles from her birthday buddy. but at least we'll still get to see elijah from time to time.
this is karla and i one week before giving birth to our youngest child/ren: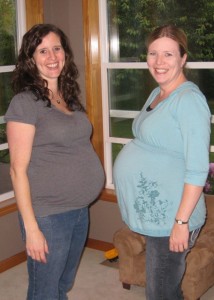 alex is my 3rd. elijah was her 4th (her 2nd & 3rd were twins!).
then our babies were delivered 48 minutes apart by the same doctor (Dr. Mallory). and we were able to see the babies together when they were about a day or two old:
my father-in-law even put this photo up on the overhead projector at church.  :)
and when the babies were just one week old they had their first play date: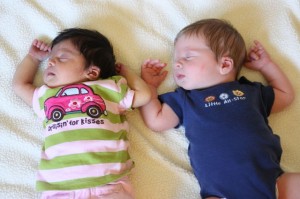 guess they were pretty tired.  :)
and now, they are just over two years old. elijah is bigger, though not much taller. and he can walk and run and he's a tougher kid than alex with her crawling, sweet, sensitive self. but they are still darling together…. even if it's almost impossible to get a photo!
elijah played "shy" initially: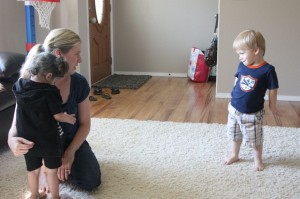 but alex was VERY interested in him, so she chased him for awhile: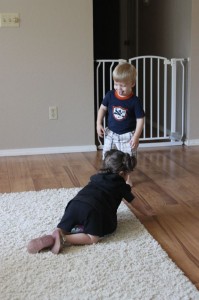 and then elijah finally relented and wanted alex to sit next to him: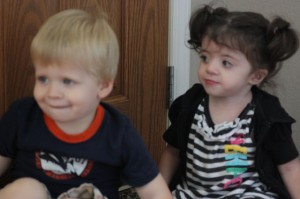 but only lasted for about 30 seconds so this blurry photo was the best i could get.
alex did attempt to pat elijah's back: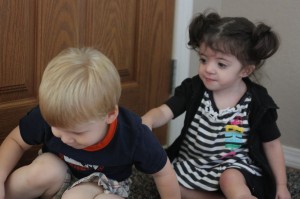 but elijah was having NONE of it, so he found a way to make his escape while i was busy with the camera: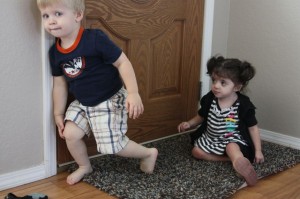 oh well. i guess that's what happens when you try to photograph two 2-year olds together!