it is one thousand, six hundred and thirty miles from our current (rental) home in Mesa, Arizona to dave's parents home in Lynden, WA. we made the drive in three days. we started out on friday morning, July 13th (the day sweet alex turned TWO!) and we arrived around 5:40 pm on sunday, july 15th (the day davey turned FIVE!). in between there were episodes of vomit (all alex), potty stops, restaurant visits, playing nicely, movie-watching, whining, crabbiness and more. all-in-all, it was an acceptable journey to the northwest. unfortunately, it's cloudy, grey, rainy, cold (in the 60s!) and yucky… i'm hoping this weather improves soon. i'm wearing my only pair of jeans and a lightweight sweater and the only other "cold weather" attire i have with me is a light-weight sweatshirt. i might be raiding some closets while i'm in town!  :)
Here are the kids at the Edwin L Z'berg park just south of Sacramento, California. We stopped for lunch and let the kids get out some wiggles….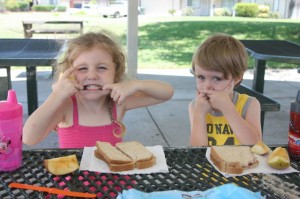 this girl is SUPER silly:
i love her range of facial expressions. she's a very dramatic child and she talks with her hands to make her point(s) well understood. i love her. i think she's like a Mini-Me.
davey and sam had a lot of fun at this park. but wouldn't you? look at it… and that had it almost entirely to themselves: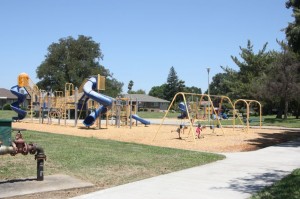 and this sweet thing: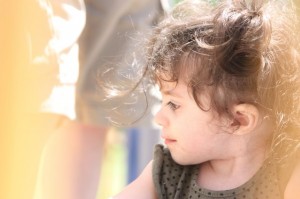 HATED being in the car. she did great on the first day even though she threw up just 3 miles down the road from our home (it was a big one, too). so we pulled off the highway and cleaned her up, put her in some fresh clothes and continued on our way. she did throw up again. poor thing. perhaps she gets car sick, too? on the second day of our adventure, however, she was D.O.N.E. she wanted NOTHING more to do with her car seat. with toys. with bottles. with movies. with snacks. she simply wanted out of the car seat and she wanted out for a LOOOOOOOOONG time. it wasn't a pleasant experience for any of us. the third day was a bit worse, but whoever sat in the passenger's seat worked hard to keep her entertained for short bursts of time (sometimes as little as 20 seconds)!
we were all overjoyed to pull into the driveway at grandpa & grandma's house last night. alex, however, was the happiest of all, i think. she cuddled and snuggled with grandma for a LOOOOONG time. and then she crawled around for a LOOOOOOONG time. and really enjoyed NOT being stuck in her car seat!