dave has been working VERY hard lately. on sunday he had a baseball game (work function) to attend. and for the past few days (monday through today) he's been spending ALL DAY (8am to midnight-ish) with 11 other Development Leads (from Logos) at the Logos house. would you like to see proof of his hard work? ok. here's a photo another one of the guys sent to me this morning: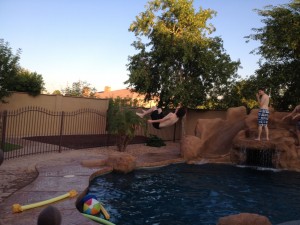 i'm pretty sure this photo was taken yesterday. apparently some of the guys were busy "working" on their flips. back flips. front flips. whatever flip would get them into the pool. so there's dave, mid-air, flipping his way into the pool.
this computer coding stuff is hard work, huh?