here's davey doing jumping jacks in the grass in the back yard of our "almost home."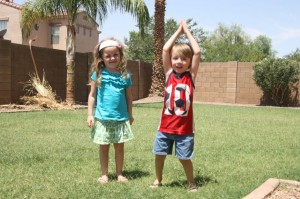 before the end of september, there should be a pool behind him. yep. a pool. a giant in-ground body of water in which to cool off on hot summer days. and hot fall days. and hot spring days. 'cuz you know all the seasons here in arizona are just "hot."
and here's davey performing MORE jumping jacks in our back yard in the gravel area: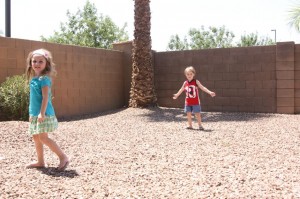 HOPEFULLY before the end of september THIS area of the yard will be grass and will have a play structure. i love that we've taught our kids "play structure." the term  "swing set" makes me think of what i had as a kid: two giant metal "As" with a bar across the top and a swing and a teeter-totter hanging down and a slide on one end. i LOVED my swing set. i used it DAILY. i still remember parts of it quite vividly even though we moved out of that house when i was 6 years old. but we want a play structure for our kids. made of wood (metal gets far too hot here!) with swings and a (plastic) slide and maybe a little "fort" area and we plan to have some kind of canvas awning on it. 'cuz you need that here in arizona.
i know you're wondering why we don't put the pool where the gravel is to save time, energy and MONEY but based on where the back door of the house is, where we want to put up the fence (to block off the pool from the rest of the yard and from wandering children), we have to flip the gravel and the grass. total bummer, we know. but it is what it is.
i don't know about you, but i think davey was a FABULOUS back-yard tour guide!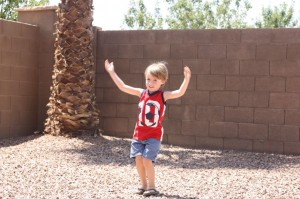 [we also have plans to add a storage shed to the back yard – likely on the side of the house – and some citrus trees. in order of preference, we say LEMON, LIME, GRAPEFRUIT, then ORANGE. not sure how many we'll plant or exactly where we'll plant them, but over the next few years, at least two citrus trees will go into the ground!
and then around front, this space: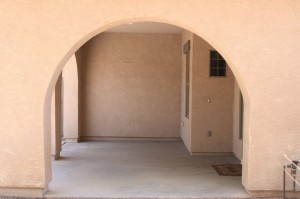 will be perfect for our porch swing (against that back wall – which is the 1/2 garage bay). the swing we've had since we got married. it was a wedding gift, in fact. many, MANY thanks to Ken & Ann Kovalik for that amazing gift (they were like my second set of parents throughout my teen years). we will, however, have to build a frame for the swing (or buy one) b/c we're not sure how we would hang it from the "ceiling" out front.