… that we're a house filled with sick kids. it all started last week wednesday night with davey. and then thursday morning with davey. and then thursday day and evening with alex. and then friday day with alex. and then friday night with samantha. and saturday morning with samantha. and on sunday everyone was doing "okay." not great, but it seemed like we were in recovery mode (hooray for recovering on fathers day). and then that night samantha got sick again. and then she was having a rough monday. and then as samantha seemed to recover on tuesday, davey declined. so along with two doctor's appointments (friday for alex and tuesday for samantha), alex is currently cutting not one, NOT TWO, BUT THREE teeth.
so when we left the doctor's office today and we were already loaded up in the car (as ridiculous as that may be since the doctor's office is about 0.25 miles from our house), the pathfinder magically found it's way to a starbucks drive thru where my "i've-purchased-15-drinks-so-now-i-get-a-free-one" coupon card was used to buy this exhausted, frustrated, house-bound, stir-crazy, tired-of-hearing-the-whining mommy a special treat: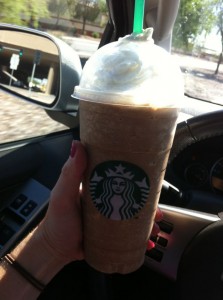 that, my friends, is a VENTI mocha frappacino with whipped cream. and had it not been so hot outside (well over 100*) and had it not melted so darn quickly, it would've been SOOOOO worth EVERY SINGLE way-too-many-millions-of-calories. as it was, it was only "worth" the calories. but hey, it was free. 'cuz you know me – if it's free, i'm getting the biggest size possible!
and in other news, Dave's car was in the shop (FINALLY) to get a few things fixed. like his a/c. yes. it's been COMPLETELY BROKEN since we moved here. not such a big deal 4 months ago. kinda a HUGE deal now. we also got his brakes fixed (i HATE that grinding sound of metal on metal!), a new timing belt, an oil change and we had the electrical system looked at. yeah. not fixed. don't get me started. it wasn't a pretty bill but his car should DEFINITELY drive better now. next up for the WRX: getting the big dents and scratches repaired (remember the ones I put there that fateful night in January when Davey stuck a piece of cooked rice in his ear as i was on my way out the door to Zumba and it was really dark and i had started to set up in the garage for the garage sale so when i backed out of the garage crooked, like i always did, i scraped his car pretty badly? – yeah, THOSE scratches and dents are FINALLY going to get repaired).
this girl is cute, but also quite the handful when she's teething. she likes to whine (especially if mommy is in sight but is not holding her) and going to sleep is very, VERY difficult. in fact, when she's NOT teething, we have a new routine: dave puts her in her crib at night. and if she wakes in the middle of the night, HE goes in to calm her down. see, if I have to put her to bed or calm her down, it involves AT LEAST 20 minutes of snuggling and sitting in the chair together with a LOT OF PRAYER that MAYBE she'll stay asleep when i lie her back down. for dave (or anyone BUT mommy), however, she just drifts off to sleep.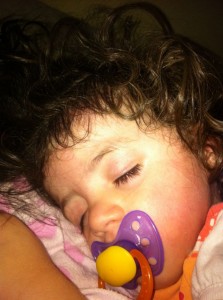 with all the whining for the past few days, to say i've been getting frustrated is an understatement. as an act of desperation, i put her at the kids' table the other day. on a chair all by herself. her feet don't even come close to touching the floor. but she sat there, VERY content, and ate a snack and then "colored" in some coloring books (what she REALLY did was eat crayons and try to do it without me catching her – she failed at that part).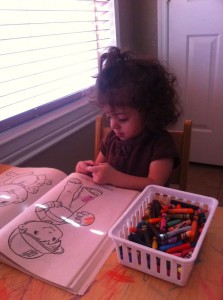 and since it went so well on Monday, on Tuesday i did the same thing: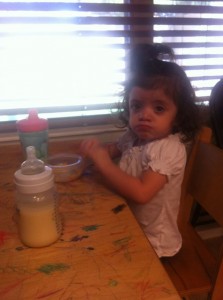 she's really growing up!
and finally, alex has gone PACIFIER/BINKY-FREE since saturday. or was it friday?
yep! ALL DONE!
when she was recovering from whatever virus attacked her but the teething started in earnest, she gave it up. wanted nothing to do with it. (she has this REALLY CUTE head shake for "no" now… it cracks me up every time i see it). so her yellow pacifier is in a drawer in her room. her purple one is lost in the house somewhere. and her pink one is in her diaper bag.