about two weeks ago my friend Julie let me know that my pacifier strap stash at The Dutch Market in Lynden was running low. she said there were a few options still for baby girls but there were only frogs left for baby boys. that just would not do! i set about IMMEDIATELY (within the hour, i believe), to make some more! i made some grey and blue and brown monkeys.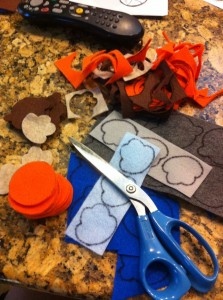 and then i created a new design: basketballs: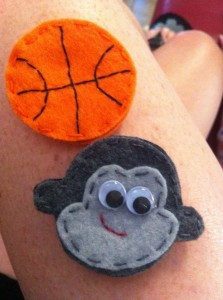 and they came together so quickly and easily (even the newly designed and created basketballs) that i tried my hand at a baseball: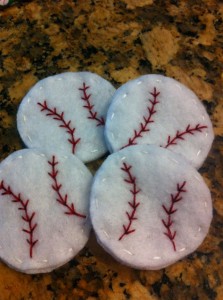 not too shabby, if i may say so.
so i dug through some drawers and found a few other little felties that had been made but never used for anything. i dug out my ribbon stash and the next day i ventured to Hobby Lobby (without children!) for some new ribbon and velcro. and then i had this: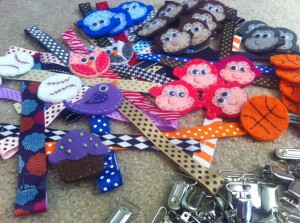 a pile of ribbon strips, felts and suspender clips.
and a day or two days later, i had this: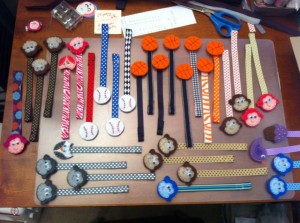 that, my friends, is a POOR photo of 34 (yes, THIRTY-FOUR) paci straps ready to be packaged and sent up to Lynden! [and i found 5 more ready-to-go paci straps in another drawer].
i posted the above photo on Facebook and before i could even get them all packaged and ready to mail, i sold two to a friend from church here in Arizona! earlier this week i packed them all into a priority envelope and shipped them up to the shop in Lynden. i suppose it's possible that they're already out on the floor ready for you to purchase! at $7 each, they make a great gift!
and in case you're wondering, i AM working on some MORE new designs. late this week i created some lady bugs: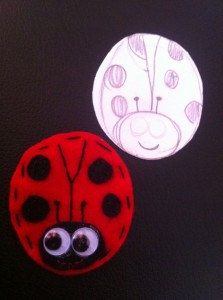 (you can see my sketch and then the finished product in the above photo). next up (in no particular order): footballs and butterflies.