some of you know what i'm talking about when i say "i'm doing project life this year." others of you have no clue. and all of you are still my friends. some of you will be bored by this post and will skip it entirely. and that's okay. but others of you (those who are scrapbookers or those of you who do project life or want to do project life) will be excited (i hope) to finally catch a glimpse of my year-long photo album project.
believe it or not, i was once "all caught up" on my scrapbooks. truly. and yet, now that i have three kids and thousands of photos to glue onto paper with pretty things, i've fallen a wee bit behind. just a wee bit, though. i don't actually process all my photos in chronological order so there's no telling where i really am in my process, but i do know that i have not yet scrapped a 12×12 album page of alex. she's almost two years old. oops!  :)
so this year, with all the changes happening in our lives, i decided to jump into this thing called PROJECT LIFE. it was created by a scrapbooker named becky higgins (that link is to her blog which is part of her whole website where you can find all kinds of information and other examples of Project Life). basically, it's a large photo album with pockets for 4×6 photos and there are 3×4″ pockets also that you can use for more photos or for journaling or to hold random things you've collected from the week (movie tickets, receipts, to do lists, etc.).
It's our family scrapbook of 2012. it can be as simple as you want it to be. or as complex. i'm somewhere in the middle, i'm sure. it's my creative outlet since i'm not doing much "traditional" scrapbooking this year. i love it because i'm getting things down on paper that we might otherwise forget. it's a place where i can store some of the kids' artwork without losing it. and i've got it in the general timeframe of when it was created. it's easy to upload 10-20 photos to costco and print them and slip them in the pockets. this does mean that, at any given time, i'm "behind" on the album (so what else is new?). but it's working for me. it makes me print photos sooner rather than later. it makes me write down our story. our lives. our adventures. the funny things my kids day. our routine. random things.
i'm thoroughly enjoying it and i can see myself doing it again next year. hopefully i can set up a permanent "home" for this project – it would make it easier to work on throughout the week. but that's for later. for now, here's a little peek into the Dunkin Family's Album of 2012.
this is our opening page. i printed a family photo at an odd size and trimmed it to fit in the pockets (one 4×6 and 2  3x4s).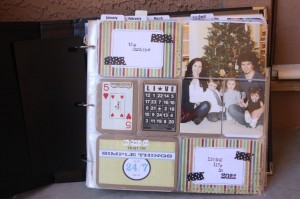 this is a look at the first full layout in the album (i apologize for the glare on the right hand page. it's hard to photograph pictures in plastic protective sleeves!). the white card with the black square in the middle on the left side page is my date card. i used the grid-journaling cards (created by Becky Higgins for Project Life) along with a stamp by Jenni Bowlin, black ink and a date stamp from an office supply store. when i started this album, i sat down and did the dates for the first half of the year (well, almost). i've run out of cards ready to go so i need to do more now (i think i went up through the end of May and since it's June i'm definitely "behind").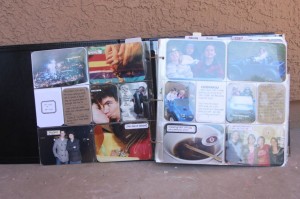 this is a layout from our move. the actual driving and then getting to arizona part. i'm sharing this layout b/c i printed the story of our move (the three actual days of driving as shared here on my blog) on the kraft (aka: brown paper bag colored) card stock. i put it into a 12×12 page protector and used my sewing machine to make the page protector smaller and i trimmed off the excess with my paper trimmer. super easy and fun. i like the added "dimension" the different sized pages bring to the album.
here's a layout that includes some artwork. on the left page, on the bottom right side, you can see a PHOTO i printed of sam's artwork. the first person i've ever seen her draw. and then a few weeks later, when cleaning out some pile of papers somewhere in the house, i found the actual drawing and slipped that into a page protector (again, it started as a 12×12 but i used my sewing machine to make it smaller). i don't mind that the original is next to a (poor) photo of it. on the back size of sam's drawing i added one of davey's drawings (it was meant for his friend blake but i shamelessly stole it from davey b/c it was the first time i've seen him use numbers – he wanted to "date" the drawing). and then you can see the drawing he made for me (read it – it says "mama" on it and has the date on it, as well – guess i didn't need to steal blake's after all!).
*at the top of my album, you can see some month tabs. those are index sticky tabs that i bought at an office supply store. i like that they make it easier to quickly turn to the month in the album that you want to see.
i also have taken other page protectors that are already "divided" and have used just portions of them. this page shows how i used a page protector intended for 6 horizontal 4×6 photos. i simply cut off the outer strip of plastic to have it hold just 3 photos (per side).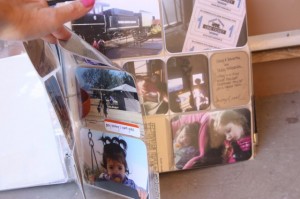 this is just a glimpse at a standard page. mostly photos with label stickers explaining what's going on. though you can see that in the lower left corner i used a 4×6 card of kraft card stock and some colored label stickers at staggered lengths (i cut them! gasp!) to include a little more journaling without it being simply a paragraph of journaling.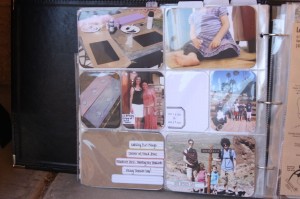 on this page i cut off the TOP portion of a page protector so i could include lots of photos (4×6 AND 4×3). in front of it is a 5×7 B&W photo of dave at a computer geek conference with his badge and a little hand written journaling on the back side of it). behind it is a map for a local "park" and on the backside of that is a flyer from the library b/c i signed up for a library card that day. and behind THAT is another vertical strip of 3 horizontal 4×6 photos. this means i have FOUR inserts BETWEEN the two pages that make up ONE WEEK of our year. sometimes i have lots of photos and sometimes i have almost none. that's just how it goes.
*if you notice the "CHIPS" in the top right of that photo above, that's a brown bag from Chipotle that holds CHIPS for kids' meals. i liked that it was little and brown so i cut it to fit into the pocket (it's not quite 4″ to fill the whole thing, but i'm okay with that) and then i journaled on it with a black pen and i stamped arrows pointing to the photo of alex below it (b/c that photo of alex was taken at Chipotle). see how it all ties together so nicely?
when i first started this layout i didn't think i had that many photos. then i pulled out my phone and Facebook and my camera and i was a little overwhelmed. the photo on the top right of the layout is from dave's parents' Facebook page. they took a photo of the family gathered together on Easter. and they held OUR family photo and a photo of Tom (dave's younger brother who was at school in Chicago) so we could ALL be in the photo. but they're making pouty and sad faces b/c we're not all together. i LOVED it. and i felt it was worthy of printing and adding to our album. see, this is the first Easter we've missed with dave's parents in 10 years. yep. and not only that, but i'm usually the family cook on Easter. (sorry we let you guys down this year!)
you can also see i did a journaling card about how i finally started going to ZUMBA! classes again. and the pink "thank you" you see is from a card i received in the mail that week.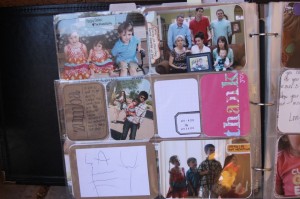 here's yet another "insert" page. this one has a long skinny strip down the inside and then room for three horizontal photos (i cut off the 2 vertical photo pockets). i used this page protector to change it up a bit AND so i'd have some room to add journaling about the hike (in the narrow strip down the side).
i always print my photos without paying attention to what size spaces i need to fill (4×6 vs 3×4). sometimes i end up with too many smaller photos and not enough bigger ones. that's an easy problem to fix. simply attach a smaller photo onto a piece of 4×6 card stock and add some journaling or stickers or stamps or nothing. works for me!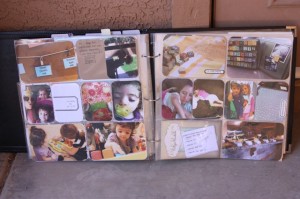 *if you have too many large photos and not enough smaller ones, you can cut a large photo in half and slip it into two smaller pockets that are next to each other.
you may have noticed that i also round the corners of my photos and journaling cards. i'm not sure why i started. i might try it next year without that extra step. we'll see. but i LOVE that it's JUNE and i have the first 4.5 months of this year fully documented already! and in another week, i'll probably be caught up through the first week of June. i'd say that's pretty darn good for me. and the best part? alex is well-represented in this album! along with the other kids, dave and myself, our friends, our families, our projects, the progress of davey's writing and drawings and so much more.
so thanks for bearing with me (if you've even read this far). feel free to ask me any questions. all project life projects are available (only) on amazon. and they ARE available with PRIME shipping.