a couple weekends ago we ventured to some new parks in Chandler. this one was pretty cool. they had a splash pad (that wasn't as cool as we had thought/hoped):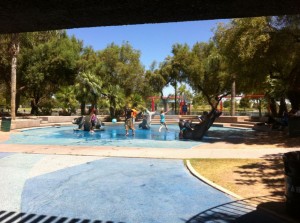 and a GIANT play ground:
see what i mean? giant. really, really cool. and b/c we were there in the heat of the day, it was pretty deserted.
the kids weren't as excited about the splash pad as we had hoped (alex spent the MOST time there – about 15 minutes) but they LOVED the playground!
this little girl CRASHED in the car as soon as we were heading home, but it was worth it. she's pretty darn cute, even when she's spitting at me: