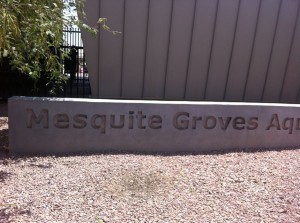 a few weekends ago we ventured SOUTH to the mesquite groves pool/water park in chandler. for $6.50, we (the WHOLE family) enjoyed a few hours of water-time fun. yes. you read that right. SIX DOLLARS and FIFTY CENTS. [it was $2.25 for adults and $1 for kids ages 2-?? so alex was free].
they have some fun water slides and a "lazy river: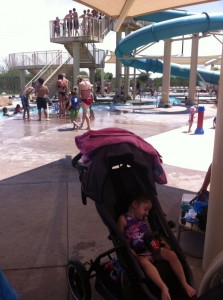 and they have a beach-entry pool with a cool water feature/slides for the kids:
and they have a vortex and a diving/lap pool and i don't even know what else.
our kids had a great time (even alex!) and it was a nice change of pace for all of us.
as you can tell in the photos above, alex was asleep before we even LEFT the pool!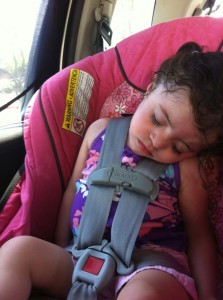 and she stayed "conked out" for quite awhile in her car seat.
the other kids were tired but did not let that stop them from staying awake: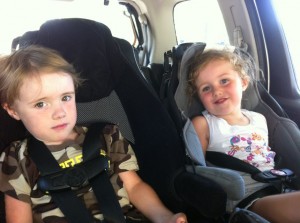 in an effort to let alex sleep as long as possible, we did not head home right away. instead, we decided it was time to try a new treat: frozen custard: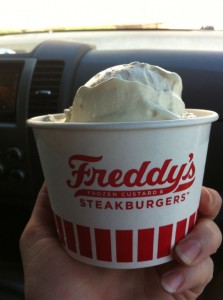 half chocolate and half vanilla. SO CREAMY. SO GOOD. the flavors simply explode in your mouth (WAAAAAAY more intense flavor than fro yo or ice cream). mmmmmmmm. as soon as i'd had two tastes, i was transported back in time. to the age of 5 or 6 when we lived in Ohio and we'd (my mom and i) would go out for frozen custard at this little stand (they also had a mini golf place, i think). we'd order our frozen custard and sit on a wooden porch swing (though i think it was hanging in an A-frame rather than from a porch, but i might be wrong) to eat our tasty summer treat. i had forgotten JUST HOW GOOD frozen custard is!
and that, my friends, was a fun saturday here in arizona. i think it only got up to 105* while we were at the pool that day. only.  :)