when we pray at bedtime and at dinnertime, this is what she does: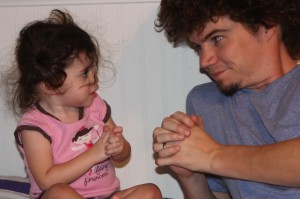 she decided one day she would start folding her hands while we prayed. she melts our hearts. she doesn't close her eyes. not even a blink. but she folds her hands and it's ridiculously cute.
on saturday, we took some time to visit our new ALMOST house. i call it that b/c it's not ours. not yet. we're under contract. we're in escrow. but it's not ours. not yet. not officially. but we stopped by the house to measure the back yard and then go pool shopping. only one child would cooperate for pictures out front.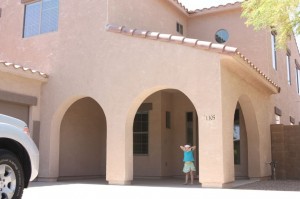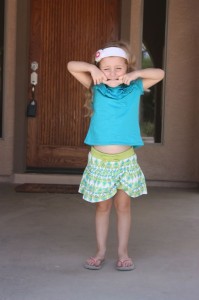 she's a goof ball and a sweet heart and i love her.
(unrelated, don't you LOVE those archways? i do. and they're everywhere inside the house, too. ahhhhhhh.)
and as we were leaving the house, we decided to drive to what-will-be davey's school. it's right down the street. dave says it's 150 yards down the street. it's pretty close. davey and i hopped out of the car and ran across the field to the school's sign to take a few photos: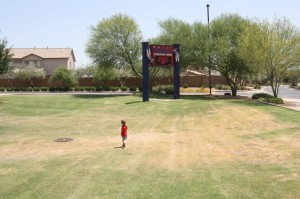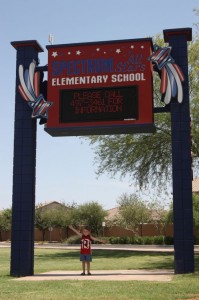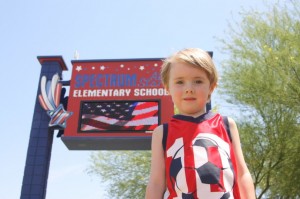 next week i'll visit the school (with the kids) to pick up the paperwork we need to get the registration process started. but we can't finish his registration until he sees the doctor for his 5-year well-child check. for insurance purposes, we can't do that until AFTER his birthday (july 15). but we're on vacation on his birthday. so his doctor's appointment is scheduled for monday, august 6th. then we can officially register him for school. and school will start two days later on wednesday, august 8th! i can't believe he's so grown up!
so there you have it.
an ALMOST one year old who can ALMOST assume a great prayer position.
an ALMOST four-year old who loves our ALMOST house.
an ALMOST five-year old who is ALMOST a full-time kindergarten student.