rewind a few MONTHS ago. shortly after we moved here dave and davey began to watch super hero movies together. Thor. Iron Man. Iron Man 2. The Hulk. Captain America.
about a month ago the boys finished that last movie, Captain America. a few days later, as a family, we were in walmart (we're almost NEVER in walmart and DEFINITELY not all together as a family of 5) and we saw a special display: 4 DIFFERENT t-shirts (all in davey's size) all of the Avengers. we convinced davey to tell us which one was his favorite and then, without his knowledge, we purchased the shirt THAT DAY to give to him on the day he and dave would go see the new movie, THE AVENGERS, in the movie theater.
it was all in preparation for something. for the BIG EVENT that happened about 10 days ago. a new movie, The Avengers, came out in the theaters. so just a week ago (last Wednesday, in fact), davey was down for his nap/rest time. dave came home from work early and we "woke up" davey to give him a present.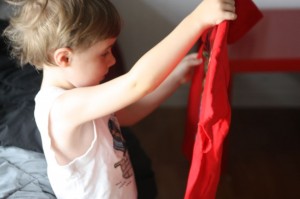 he was quite excited about the shirt. but you know what? he's only 4 and a half years old…. he didn't know what it meant.
so we told him he was going to see the movie The Avengers in the theater with Daddy THAT DAY.
really? THANK YOU:
he had to change his outfit, which meant he wanted to lay out his clothing to see what it would look like: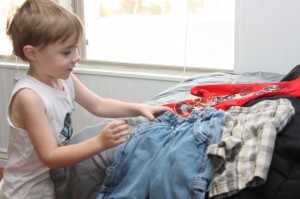 and then the boys had to pose for some photos before they could take off for the theater: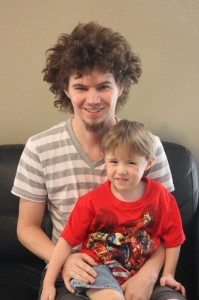 it was davey's FIRST movie in a theater. dave said he did REALLY well and he loved it. he got the ROYAL treatment – pop, popcorn AND whoppers!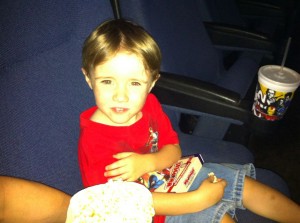 and i'm happy to say this kid wears that t-shirt the day after i hang it back in his closet after washing it. he's owned it for a week and has worn it 3 or 4 time already. he LOVES it and it reminds him of his extra special date with his Daddy at the theater. and i LOVE that.