this morning i'm making chocolate chip muffins from scratch. first time ever.
this morning we're (meaning the kids and i) watching Lacey & Jada while Mrs. Jenni helps in Blake's class at school.
this morning i will finalize the toys to be used for Samantha's punishment (more on that in another post).
this morning my house is mostly tidy already. ahhhhh. Love that!
this morning i will empty my dishwasher and clean up the rest of the kitchen & dishes before lunchtime.
this morning i will be home. all morning. and it will be wonderful. right?
and finally, this morning i want to share this face with you: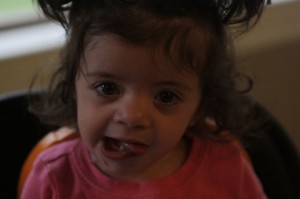 (i know the photo's dark but i'm too lazy to edit it right now and i was too lazy to add the external flash to the camera the other day when i took the photo…. was that just yesterday?!)