nana was able to attend the kids' VERY FIRST EVER OF ALL TIME swim lesson class on Monday, April 2nd! the kids practiced bobbing in the water (they were supposed to bob up and down and get their face/head wet), blowing bubbles, kicking with the paddle board, kicking with the noodle in front of them, back floats, putting their face in the water, getting in and out of the pool "properly" from the side and more. class is 25 minutes a day, 2 days a week, for 4 weeks.
here's sam getting a HIGH FIVE from her teacher, Katie: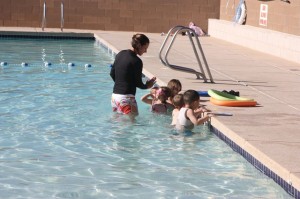 sam kicking her way back to the wall using the paddle board: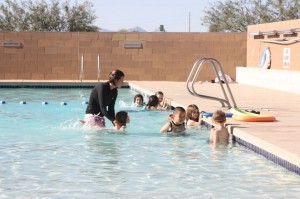 davey kicking with the paddle board: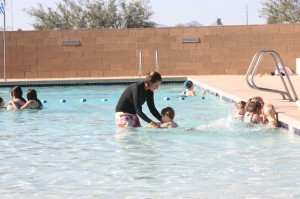 davey in a back float (with sam watching closely):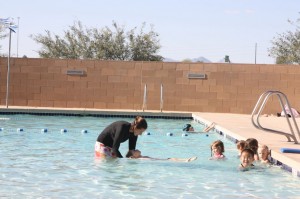 davey practicing the right way to get in and out of the pool: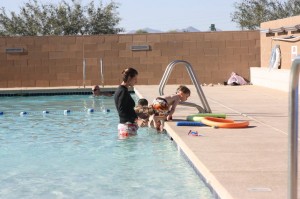 "alligator crawling" to the MORE shallow end of the pool (it's a beach-entry pool) to practice putting their FACE (not just chin & mouth for bubble blowing) into the water: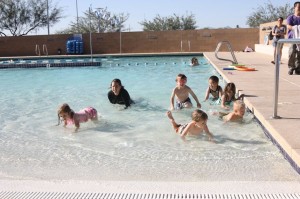 it was pretty breezy/windy that first day of class, so these Munchkins were quite cold when class was over. however, they LOVED swim lessons and they were back in the water to practice what they learned almost immediately after this photo was taken.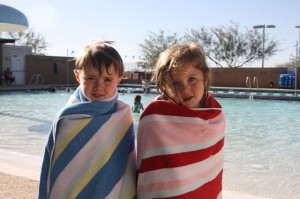 (and if you're wondering where alex was during all this, she was in CHILD CARE at the Y…. who loves the Y right now? I DO!!!!!)