alex isn't the EASIEST child in the world. she's 21 months old and still only says "bye bye" and "more." using sign language she'll add to that list with "all done," "please," and "bites." additionally, she DOES NOT WANT TO WALK. not at all. she'll walk on the ground (in the house – tile, wood and carpet) but only to walk along/around furniture. additionally, she's got some SENSORY issues. she hates the grass, concrete, sidewalk, sand and more.
but now that nana spent two weeks with alex at the playground (among other places), she's learning to do more than just TOLERATE these textures… she's ENJOYING them! recently she's been seen CRAWLING on a driveway, our back patio, in grass (both real AND fake) and i have photos of her experiencing SAND!
nana drizzling sand onto alex's feet: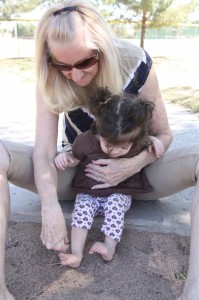 close up of alex's toes all curled up: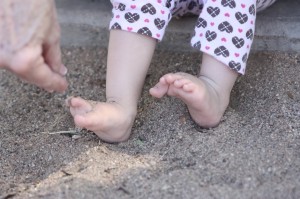 wait for it… she's REACHING for the sand!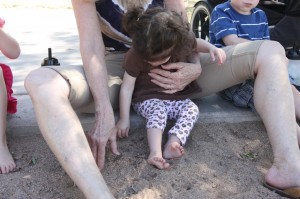 she's TOUCHING the sand: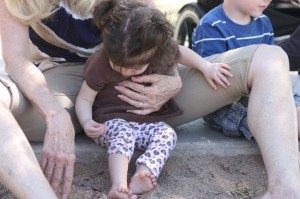 "what do i DO with this stuff now that it's STUCK on my hand?"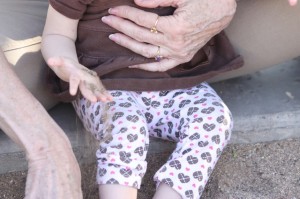 [side note: these photos were taken at Freestone Park around thursday, 3.22.12 - i'm not sure why they didn't link into the other post with photos from that adventure, but it is what it is. just two and a half weeks after this photo was taken, alex was SITTING in the sand at the play ground around the corner from our house. yes. SITTING IN THE SAND while wearing shorts and NO shoes. many, MANY thanks to nana for her help with alex!]