while nana was in town, i had a LONG list of crafty projects i wanted to complete. i didn't finish them all, but i made a LOT of progress!
FIRST i made some decorative hangers for the girls' rooms:
ADD PHOTO HERE
i used vintage hardware that i purchased in snohomish, washington (it was BRASS!) and i spray painted it white. i had lowes cut down a board to size for me and then i sanded, painted, painted and sanded before drilling holes and attaching the hardware. (i left room on the board above the knobs so i could add a vinyl phrase – eventually).
and then davey was jealous. so hobby lobby came through with some COOL knobs. but it took awhile to find a paint color combo that would work. and i'm not sure i'm 100% happy with the final outcome yet.
attempt #1: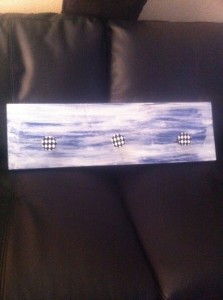 didn't like it AT ALL.
i REALLY wanted to make that dark blue paint work, so attempt #2: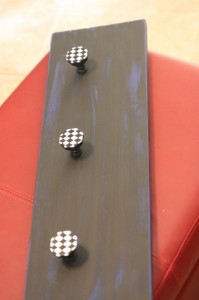 better. but still not good. just not right. so i had to give up on the BLUE paint (which i purchased specifically for this project.
attempt #3:
ADD BLACK & RED PHOTO HERE
SECOND i made some decorative hangers for our entryway: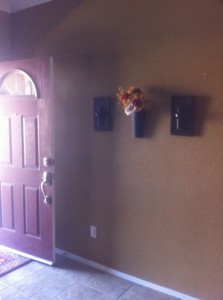 wanna see a close up?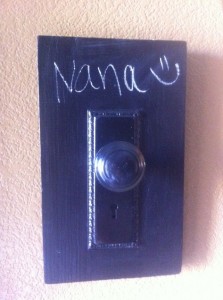 more boards cut-to-size at Lowes, black CHALKBOARD paint (on the wood) and vintage doorknobs (also purchased in snohomish, washington back in january) which were originally BRASS and were spray painted BLACK. add all those goodies together and you've got hooks in your entry way and you can PERSONALIZE them when guests/visitors come to your home!
THIRD you'll get a peek at some new wall decor: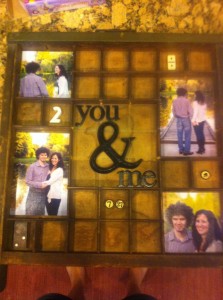 a small printers' tray that i purchased in ohio last summer. i finally removed some of the slats and added photos and stuff. it's not on the wall yet (it's going to go in our bedroom) but i LOVE it!
and here's a LARGE printer's tray that i'm not allowed to hang in this house b/c it requires anchors (boo!) and i've added a few photos to it AND i've secured the bits&baubles inside since this picture was taken: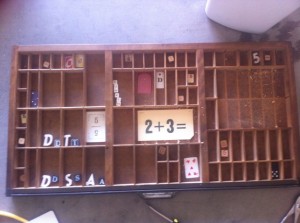 again, i spent time removing some of the slats. not a fun or easy project, but i got into a rhythm and it went a bit easier (eventually).
and here's a BAD photo of some EASY new wall decor: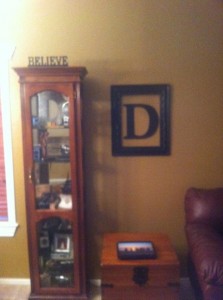 i bought that "D" at michaels (or joanns or hobby lobby?) and i found the frame at a garage sale for $5 (it was intended for a different project but i changed my mind)…
other than the reality that the D is NOT centered within the frame (oops), i really like how it turned out.
FINALLY my project life binder is slowly but surely getting CURRENT. i edited and printed photos while nana was here. and i put them in the book. and i started some journaling. it's not up-to-date yet but every little bit of progress helps!