dave's uncle jon and cousin jonathan came to town for a whirlwind trip to hike and to eat. they arrived on friday (two days ago) and immediately set out to hike Camelback Mountain.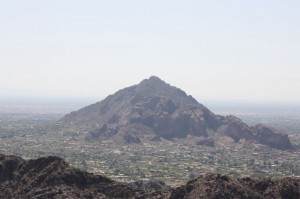 dave and i haven't been there yet (though i'm now eager to go). see that little "hump" just to the left of the peak? that's as far as they made it. uncle jon was afraid that if he pushed himself to make it to the top he wouldn't be able to hike on saturday when dave and i would join them. my thought? it's incentive for them to return so we can ALL hike to the peak!
but on saturday morning, following a FABULOUS dinner at Joes Real BBQ the night before, i picked up the sitter for the kids and (a little bit later than intended) the adults were out the door! we drove towards Phoenix and Scottsdale but stopped short here at Piestewa Peak.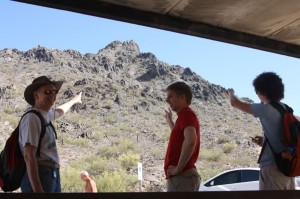 on the drive TO the mountain it seemed so much more foreboding. so much bigger. like HUGE. but i won't lie. i was still a bit scared about having to climb to the peak of that thing. it was rocky and craggy and very, VERY sunny and the temperature was in the mid to upper 80s and i was being a wimp. but i wasn't whining – just joking.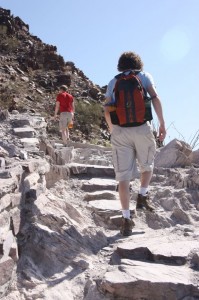 there were lots and loTS and LOTS of "stairs" to climb. some were pretty steep/high/big/tall steps and others were itty bitty shallow baby steps.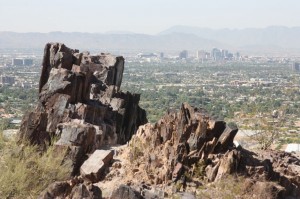 but then when we'd stop to catch our breath or drink some water we were greeted with scenes like the one above. pretty cool, huh?
and looking down? yeah. also pretty cool:
here's Camelback again: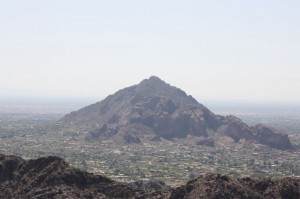 and the farthest out parking lot, where WE had to park to find one of the FOUR remaining parking spaces!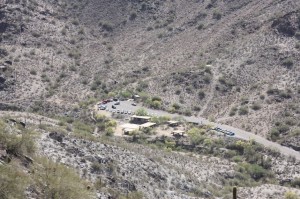 some of the "stairways" were pretty steep. and with no handrail, i wasn't afraid of the UP part…. but i did worry about heading back DOWN after making it to the top…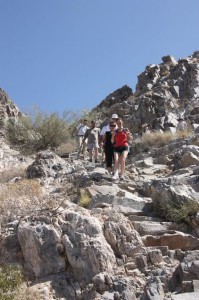 but then, with my heart thudding in my chest and my throat beginning to hurt from gulping air through my open mouth, THERE IT WAS…. the TOP was in sight.
just. a. little. further. (farther?)
WE MADE IT! Uncle Jon was the FIRST person i photographed at the top… he had worked hard and had earned this photo: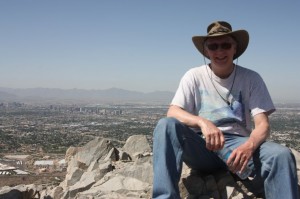 coolest thing? he was able to see the general area where HE TAUGHT SCHOOL 30 years ago: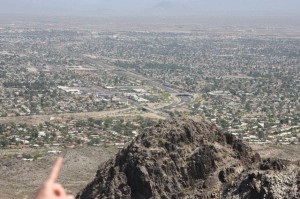 he worked at Scottsdale Christian School for one year after college. [he taught some Math, Bible and PE courses. and one year was more than enough for him. he had planned to spend his summer "back home" in Ohio and then return to Phoenix/Scottsdale in the fall to find a new job. but he got bored spending all summer at home with nothing to do and he stumbled upon a draftsman job and the rest... well, it's his history?!] the school was located in the general area of one of the bridges/overpasses in the photo above (his finger is pointing too far to the left – that's the photographer's fault).
dave had started a timer when we were in the parking lot. it took us an hour and 6 minutes to make our way up the mountain.
dave and i were proud to make it to the top: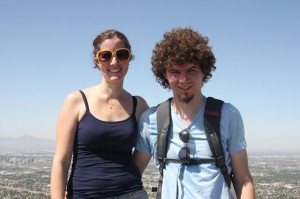 but we were both ridiculously sweaty: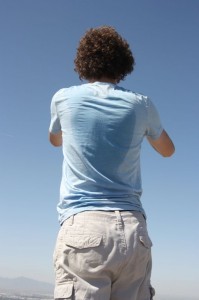 here's a shot of uncle jon and cousin jonathan with the mile marker (the indication that you've "MADE IT TO THE TOP") between them in the background: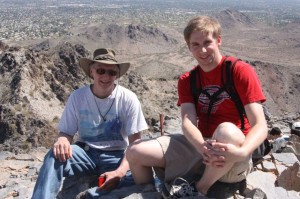 and then this really nice lady who's decent with shot composition was able to capture a group photo: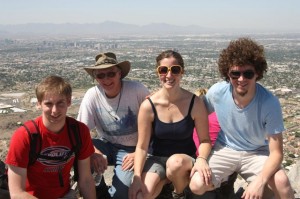 we took a good long while to rest at the top. we drank more water. ate some energy snacks and enjoyed the breeze. yep. there was a nice breeze up there. it felt gooooooooooooooooood! but the clock was still ticking, so we took a few last photographs:
(that was uncle jon trying to text aunt marcia)
and this is dave and i at the mile marker: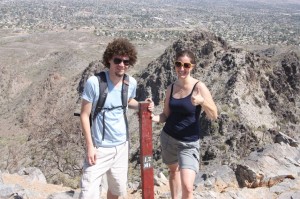 and it was time to head back DOWN….
down all those steep steps: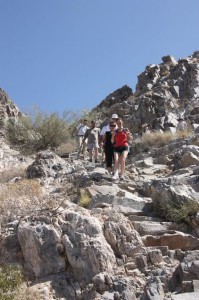 and on the rocky trail: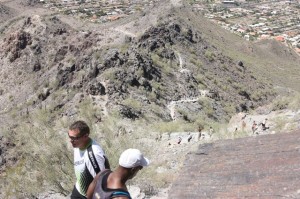 with only a few pit stops for a few more photo ops like this little lizard: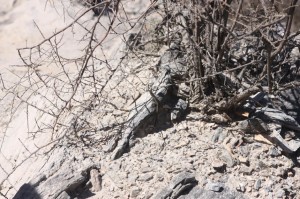 or the amazing flowers sprouting from the top of the cactus: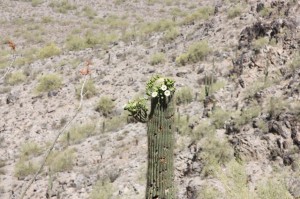 and before we knew it, we'd only suffered one MINOR injury (a rolled ankle… and it wasn't mine!) and we found the sign for the trail head: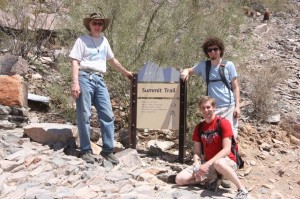 we made it down the mountain in about 50+minutes.
and then we began the long trek back to the car in the tippy top, farthest away parking lot: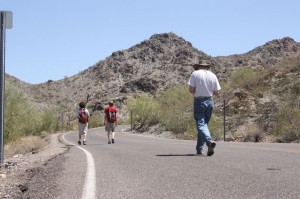 and i was the last one to arrive at the car (i was taking photos like the one above!) and i arrived at 2 hours and 48 seconds (from the very start of our journey to the very end). and we ALL would've made it to the car MINUTES, not SECONDS before the 2-hour mark if i hadn't INSISTED on stopping for a water break at the bottom of the trail before we embarked on the parking lot journey.
we were all sweaty and tired. but i think we all felt like we had accomplished something great. i won't tell you that there were hundreds of other people on the trail that day. i won't tell you that there were KIDS (not quite as young as davey & sam) on the trail. i won't tell you that there were OLD people on the trail. i won't tell you that some people did the trail TWICE in the time that we did it once. nope. i'm not going to tell you any of that. because that might make our journey seem a little less…. well, just a "little less."
once we piled back in the car, we decided we had earned a tasty lunch at a sit down restaurant. YELP to the rescue and we were able to enjoy lunch at Dick's Hideaway on 16th St in Phoenix. And it's definitely HIDDEN away b/c we had to park and get out of the car before we could actually FIND the place. but that lunch was good. mmmmmm. hey! that reminds me! i have leftovers in the fridge… i guess i get to have that yummy lunch two days in a row!