other than some ridiculous sun burns, we survived today's hike! we had sunscreen in our backpack but i neglected to use it on ANY of us. ugh. BAD MAMA! additionally, alex was NOT a happy hiker riding along on dave's back. or my back. so she ended up being "worn" on my front. many thanks to my friend Jenni for loaning us her ergo.
today we hiked Treasure Loop which is 2.4 miles including some UP HILL and the kids did well. see that "rock" at the bottom of the mountain right about in the middle of the photo below? THAT is known as Green Rock. And Treasure Loop "loops" around Green Rock.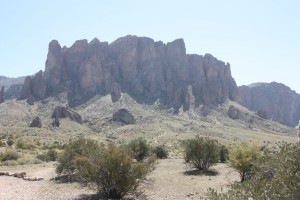 as we were hiking, davey was pretty whiney and crabby and slow. we're pretty sure he didn't get enough sleep. so on the way UP the mountain, he was lagging behind. our first break on the trail was when we made it to a cactus. not really a certain one, but just a cactus that was about halfway from the parking lot to Green Rock. then we stopped at Green Rock. sam and i made it there first.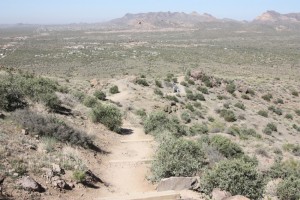 see the colorful dots in the middle of the above photo? yep. that's davey and dave.
and here's the little dude picking up steam: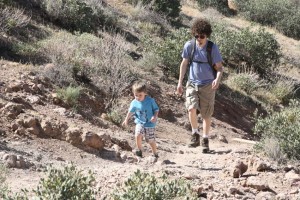 and then it was snack break time!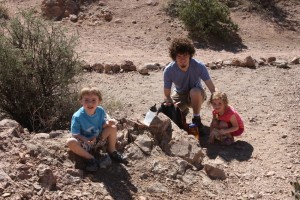 while we snacked and rested, dave did a little bit of free climbing: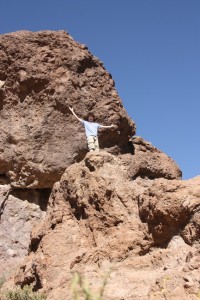 the rock behind him is the back side of Green Rock.
and then we were off to reach the highest elevation on our hike (approximately 2500 feet – though our snack break time occurred at only 2400 feet) where we even found a nice guy to take a photo of us: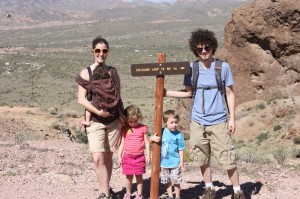 not too bad even though sam REFUSED to be in the photo (i literally pulled her from behind the sign post)!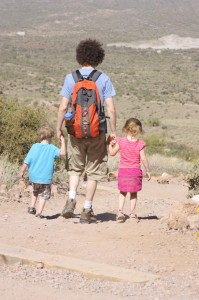 a little glimpse of the beauty that is Arizona. it's dry. barren. dusty. dessert. but it's beautiful. and oh-so-very-different from the lush, green, mossy, wet beauty of the northwest. i love both.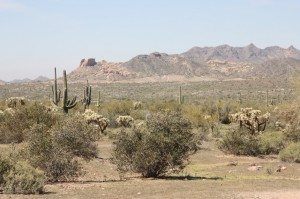 before we made it to the base of the trail where there are restrooms, sam and davey BOTH announced they had to pee and then they started to hold themselves. UH OH! dave took them off into the bushes off the trail for a little pit stop. here they are, walking back to me: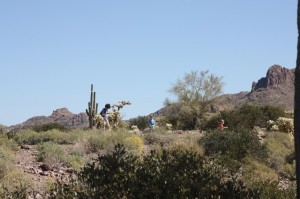 overall, it was a great hike and davey and sam could definitely do it again. while on our way UP to the cactus stopping point, a woman and her daughter who were walking DOWN the trail (we were walking up) told us if we reverse the trail it'd be easier on the kiddos, so we'll have to try that next time. taking the left most path UP and the right most path DOWN.
-would we do this hike again? DEFINITELY.
-would we recommend it to friends? DEFINITELY.
-would we apply sunscreen before and maybe even DURING the hike? DEFINITELY.
-are we happy we went? DEFINITELY
after our hike, we enjoyed a packed, picnic lunch using a table like this: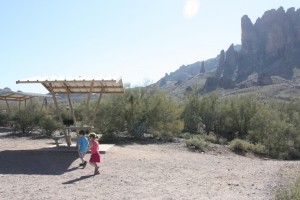 and then we took the 0.33 mile walk along some path to see the cool things they listed including Bat Houses and a Sundial. we were sorely disappointed (we were also exhausted) but here are some fun photos anyway: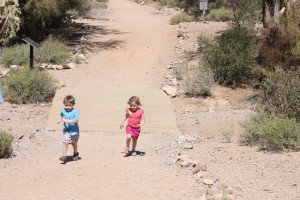 birdie on a cactus: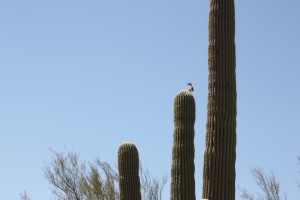 petting a coyote – part of the sundial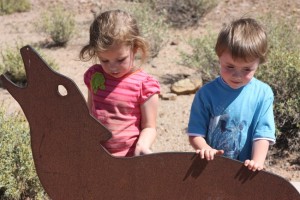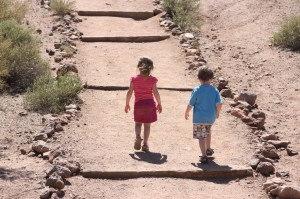 (Uncle Tom would've been VERY proud of these two kids. at this point in the day, they were pretending to be Dora and Diego and they were speaking in as much Spanish as they could remember…. not a lot, but enough to keep themselves and us entertained!)