did you know that it's easier to do your laundry when you have a washer and dryer in your residence? yep. lots easier. it may sit in the dryer for days. or on the couch in a pile gaining wrinkles, but at least the clothing is clean, right? two weeks ago (Wed: 2.22.12), my laundry room looked like this: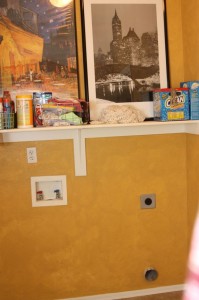 and then the great Sears delivery guys showed up 15 minutes after the START of the two-hour delivery window and they assembled my washer & pedestal and dryer & pedestal in the cul-de-sac: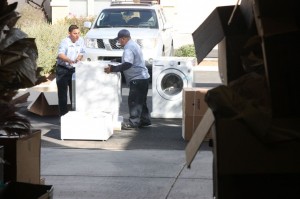 then they rolled the appliances (on hand trucks) through the pathway in the garage: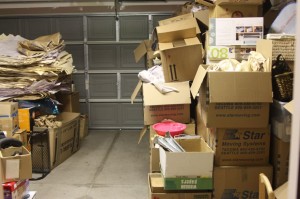 and less than an hour after they arrived, they were gone but they left these beauties in place: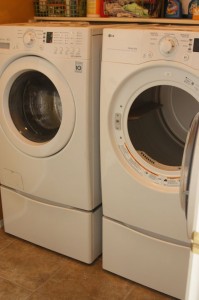 unfortunately for me, that PATHWAY in the garage no longer exists. tomorrow i'll spend about FOUR HOURS in the garage. the plan: continue to re-pack and stack boxes as needed of things that will STAY in boxes while we're in this rental. then break down boxes that are empty and recycle as much of the packing paper as we can. the goal: to make room for our CURRENT refrigerator to be moved into the garage on thursday when the Sears delivery guys come back to bring my BEAUTIFUL french door, stainless steel fridge with freezer drawer on the bottom!
Wed: 2/22: delivery of washer & dryer
Thurs: 2/23: Dave went to work in the morning like usual. then he came home on FRIDAY MORNING at 11:30. yes. he worked through the night for 24 hours (minus a lunch break, dinner break and a one-hour nap from 6:15-7:15 am)
Fri: 2/24: we signed the papers to sell our home
Sat: 2/25: I finally went to the doctor (walk-in clinic) and was started on a z-pack… i had my very own ear infection
Mon: 2/27: the house sale went through. since we're in a rental right now, i like to joke around and say "we're homeless!" does this mean it's time to start house hunting? i haven't even unpacked all my boxes yet (see above garage photo – ugh!)!
Sat: 3/3: i hired a sitter (Annalynn is 13 and she's the daughter of one of my best friends from high school and she lives 2 miles away) so dave and i had almost FOUR GLORIOUS HOURS of child-free errand running time. we enjoyed starbucks, we ordered a couch & love seat (they were delivered today!) for the family room & loft, we picked up a few random purchases, enjoyed lunch at a sit-down restaurant (again, ALL BY OURSELVES!) and then we went to Sears and Game Stop and bought a Wii bundle, another controller and a Diego game.
more photos soon, i promise…. i need to download them onto the computer!