our $15 investment into one of THESE Ikea dry erase and chalkboard easels was VERY worthwhile! we have it downstairs in our kitchen/family room area. the kids LOVE to draw on it (especially the dry erase side). it often keeps them quiet and entertained while i'm preparing lunch or dinner. i love those moments of "peace."
but along with the help it provides me at meal-prep time, it also has helped davey improve his drawing and writing skills. he drew a robot earlier this week that was ridiculously cool. unfortunately, he erased it before i could snap a photo. but this morning, he surprised dave and i with a drawing of a person (standard for him) and then a BUNNY! yep. a bunny. a RECOGNIZABLE bunny.
wanna see?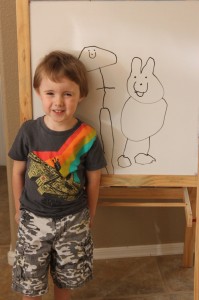 i told you. pretty darn cool, right?
this kid amazes me every single day. he's growing up. he's learning so quickly. and in just over 5 months, he'll be in kindergarten FULL TIME EVERY DAY and i will not know what to do with myself. my little boy is growing up and it only cost me $15 to realize it…..