Monday, January 23rd
the snow storms were over (though another was forecasted for the 30th) and our moving van was on it's way to arizona (on saturday they were finally able to use a U-Haul to shuttle tom & jenni's belongings from their house, down the hill to the still-stuck-in-the-snow moving truck). tom and jenni had left on sunday (they planned to take 4 days to make the drive).
we had hoped to leave around 7 or 8 in the morning – that didn't quite happen. but we DID pull out before 9 and we decided it would be easier to leave earlier the next two days when we were in hotels.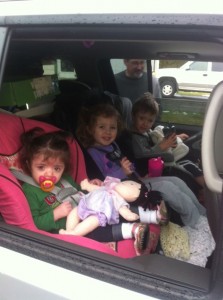 -less than two hours into our adventure and we discovered that we had no working DVD screens in the vehicle (so much for buying Cars 2 for the kids for the trip!)
-Alex threw up THREE times. not spit up. throw up.
-Alex was constipated
-Alex was teething
-lots of napping:
-McD's for lunch (complete with play place for the kiddos):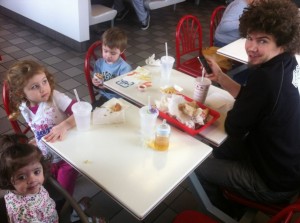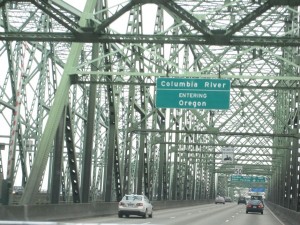 -immediately following Alex's third vomiting incident, Samantha had to use the potty so we pulled over at a rest stop. Samantha FREAKED OUT when the toilet flushed (automatically) while she was still on the potty. she JUMPED off the toilet and started SCREAMING with some poo still hanging from her bum.
-Chipotle for dinner
-LATE night arrival at our hotel in OR
-"fresh" cookies in the lobby for the hotel guests
-at the hotel, we discovered Samantha had put on the WRONG socks (aka: someone else's socks!) at the McD's play area (back in WA). i was grossed out. i actually threw them away. yes. i did.
-dave tried to adjust the wires in the car so the DVD screens would work for day #2 of our adventure. the wires were all correctly attached at the "easier access" points, so he realized there was nothing he could do to make them work short of taking the full stereo system out of the console. while working on the wires, however, the car battery died in the hotel parking lot.
-Dave was up until after 1am doing a load of laundry at the hotel (alex's clothes and car seat smelled A.W.F.U.L!)