a mere 4 days after arriving here in arizona, we were out running errands (dave and i and all three kids) and after we finished the boring errands (probably appliance shopping), dave decided to treat the kids to an adventure at a park. it's not too far from us (6.7 miles) but who knew we'd find WATER in the middle of the desert?!  ;)
first we enjoyed playing at the play ground:
my little boy is growing up. he insisted on climbing over this "ladder" from one side to the other. he needed a little direction at one point, but refused to allow me to provide any "hands on" assistance:
then, following his bravery on the ladder, davey further amazed me when he reached for the pole and slid down it:
he was SO PROUD of himself when he made it (safely) to the ground!
but things started to fall apart b/c there were wood chips on this play ground and davey kept getting them in his shoes and it made him so upset that he took off his shoes and sat on the play structure waiting to leave…. and alex wasn't all that happy nor energetic either. in fact, she started to snuggle with dave's hair: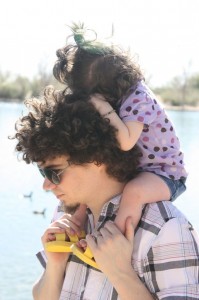 that girls LOVES hair!
we ventured over to the water where we found lots of ducks and a few small rocks. our kids LOVE to throw rocks into water. they think it's one of the coolest things to do.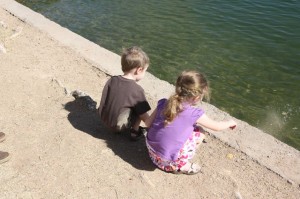 but then some older people shared their bread with us so the kids could feed the ducks!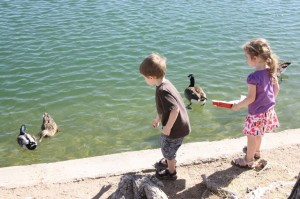 there's a path around the water and there's an island IN the water, so we planned on returning one day with the bikes for the kids.
that day was yesterday. minus dave (he worked). but to make up for daddy's absence, we added jenni, blake, lacey and jada to the mix and had a grand time riding bikes around the "lake" and playing on the play ground and eating (or not eating) a picnic lunch…. i must tell you that i LOVE that it's february and we can do all sorts of fun things outside!