it's official, my friends.
about two weeks ago, Dave came home with AZ license plates for our vehicles. yesterday i received my AZ drivers' license AND registered to vote in one fell swoop that took over an hour. ugh. the MVD (Motor Vehicle Department) in Gilbert off Mesa Road is not highly efficient. but it's done. and i was able to do it child-free thanks to Jenni for watching ALL THREE of my kids!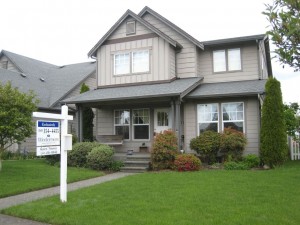 in other news, today we sign some papers with a notary public who will come to our current rental home. yes, you read that correctly. at noon today, we will sign papers to sell our house in Lynden (see photo above). the only home we've ever known together (until we moved into this rental, of course). we've been wanting to sell it since last May so what we're doing today is not heart-breaking, but it does give me pause. there are so many things i want to remember:
-how we found the house to buy it (out roller blading and we "took a break" to walk through three model homes)
-making carpet angels with Carrilee
-the absolute terror and fear i felt signing the papers to spend 30 years of my life to buy the house
-the thrill and excitement i felt AFTER we signed the papers to buy the house
-choosing paint colors
-registering for bathroom items to decorate the house
-moving in with a bed (mine – a queen), a computer (ours), a computer cart (mine), another bed (dave's – twin) and our clothes and a few dishes. everything else was a shower or wedding gift and then we quickly accumulated more items over the years
-eating from (and even entertaining with) a folding card table and 4 folding chairs for the first 7 months we were married
-slowly but surely buying each piece of furniture we added to that house
-having a craft ROOM instead of a craft SPACE
-setting up our tent in the bonus room to "fill it" and do some indoor camping
-having a party with some friends in the bonus room and tent
-lots of entertaining (pre-children, at least)
-letting Christy (my pre-Dave roommate) live with us for a week or two before she got married
-letting Richard & Christy Olson (a different Christy) live with us before they left for Indonesia
-buying the hot tub
-building the deck around the hot tub
-adding flowers (perennials – i don't really like to garden). i'm gonna miss those flowers. daisies, black-eyed susans, tiger lilies. that magnolia tree that was already in the front yard when we moved in. yep. i'll miss those pretty blooming things!
-i remember ripping out SEVEN heather bushes that were part of the "landscaping" of the house. i'm not a fan of those bushes. they spread and die and look yucky. i was glad to pull them all out.
-coming home from Italy feeling exhausted and gross and frustrated with Dave. all i wanted to do was take a hot bath. the light under our hot water tank had gone out. NO HOT WATER!
-giving up my craft room so i could have a baby – my amazing little man, Davey
-being in labor with davey and not realizing it
-each of my children came home from the hospital to that house: 1171 Elm Street
-and many, many more…..
and there are plenty of things i'd like to forget. but i won't list them here!  :)
i moved into that house in June of 2002. Dave moved in after our honeymoon, so he moved into the house in August 2002. For 9.5 years it was our home. we laughed, we cried, we celebrated, we fought, we recovered, we entertained, we shared, we hosted, we traveled, we parented… and that house – that HOME was our base. it's where God allowed us to grow from individuals to a couple. from a couple to parents. from parents to a family.
but our HOME. our current HOME is wherever the five of us reside. where we are, that's home. whether we're in our Pathfinder driving across the country (on vacation or moving!), or in a hotel room, or in a rental house, all of those places are HOME. and that's just our temporary home. our permanent home? our forever home? that's in glory, my friends. in heaven, forever, with Jesus. THAT will be an amazing home, for sure!