davey is 4.5 years old and LOVES being this age. he's learning to sound out words (for spelling) and he LOVES to sit down and write, draw and color. his imagination is starting to run wild (in a good way) and he LOVES to play "Marvel Super Heros" (which basically means you pretend you're a marvel super hero and you act out some scenario of "saving the day.")  when i came home on saturday from my adventure with the girls, i discovered this….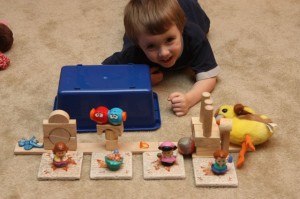 his "pumping station."
i asked him to explain it to me. basically, the people "stand" on the leaves (which are stamped onto tile coasters) and he pushes the button (the plastic "bump" in the center of the over-turned blue bucket behind the people) and it turns them good, "because they were bad."
while i don't get it, i LOVE his creativity with the storyline AND with using so many different items/objects to create this scene.
samantha is 3 years old and is still filled with a LOVE for life. she's a high energy, girlie-girl tomboy who LOVES people, being outside, eating (especially sweets), books, dressing herself and being awake. she's taking cues from davey and is learning what sound each letter makes and she's trying to learn to sit still long enough to draw or color, though she still holds writing implements in her tightened fist. mostly she likes to scribble, and that's just fine.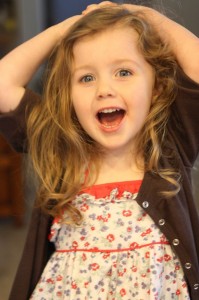 the peanut, alex, is 19 months old now. she's still under 20#. she still wears some 6-9 and 6-12 month clothing (looser fit dresses and leggings) though she's definitely too long for her 6-12/12 month clothing. MOST of her clothing items are size 12-18/18 months (especially footie jammies – she just looks SO LONG in those!). she can now climb an entire flight of stairs and it's her FAVORITE place to be/thing to do. we're forever running up the stairs to either close the gate (so she doesn't fall down) or bring her back downstairs so she can climb again. silly girl. in the past week, she's started going back DOWN the stairs (only if she's already in the "going up" process) – only about 3 or 5 stairs max, but this is progress. she's still crawling everywhere, though we can now get her to walk behind her "walking music toy" every few days. she's just not really interested in walking yet. would you be interested in walking if people carried you everywhere? she has FINALLY cut more teeth (she cut 1 or 2 our last week in Lynden and as we were driving to AZ). she now has FIVE teeth (well, mostly nubs) on the top. add those to her two bottom teeth and she's slowly-but-surely "catching up" to other kids! she still eats like she has a hollow leg…. she can pack away more pancakes than D&S combined! she has added NO new words to her skill set but she likes to make noises – spitting, whirring sounds, etc.
she's really coming into her own with her personality.
and now, even though i've only shared one photo of each, i've provided you nana with an update on the kids. and i do promise there are more kid-photos to come!