in case anyone is wondering, Davey and Sam DEFINITELY remember their friends from washington. on our first full day in arizona (thursday the 26th of february), we went out for breakfast at a little place across the street from dave's office. i think it's called Mimi's Cafe. anyway, the kids were enjoying coloring and drawing on their place mats while we waited for our breakfast to arrive. samantha told me what she wanted me to draw. she was ELATED with the outcome: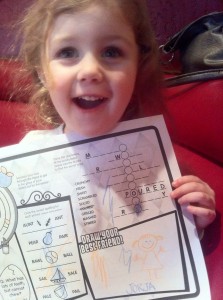 in the box in the lower right corner where it says "draw your best friend," she had me draw a picture of Jorja.
we miss you Mr. Tim, Auntie Clee, Henry, Jorja and Baby Albert!