hi! it's a beautiful, sunny saturday here in mesa. alex is napping, davey & sam are "resting" and dave is at the store buying dinner for tonight so i get a little more MOMMY TIME. whew!
following another difficult and sleepless night (each kid is having sleepless-at-night issues – davey has an ear infection and wicked allergies and who knows what the girls each have), i awoke early to visit a garage sale. i actually stopped at three and purchased nothing. but the first one was Kristy and Greg selling their dad's stuff. He just passed away earlier this month. I know Kristy from our church Lynden…. her dad lived down here. It was nice to visit with someone from "home." then i returned home, showered and got ready for GIRlS' MORNING.
heather (my friend from high school who has lived here for over 15 years), jenni (the other logos wife who moved here), baby jada (jenni's 3.5-month old baby girl) and i went to starbucks this morning and then to a local antique store. it turned out that today was one of the OUTDOOR ANTIQUE MARKET days, so we enjoyed roaming the aisles of a parking lot hunting for vintage treasures. i picked up something for myself and something for my friend Julie (back in Washington). then jenni ditched us (lovingly) and heather and i visited one of the two antique malls. we reminisced a lot, found fun things from our childhood and i bought two items (again, one for me and one for Julie).
my first (and best) find of the day was this scale for Julie: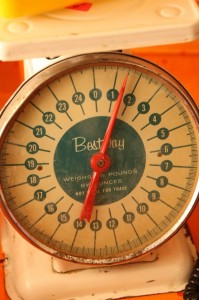 i sent her a photo of it (hooray for iPhones!) and called her to see if she wanted it. it was only $6 and she's been looking for one. hope you like this closer-up photo, julie!
then i found this bright spot: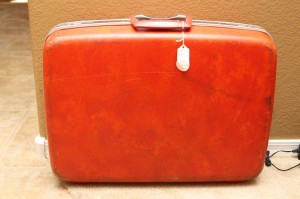 and i was smitten. and then i discovered it was marked down to $5 (originally priced at $10). so i opened it up and my love for this piece grew when i found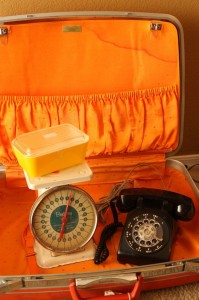 POLKA DOTS on the lining!
those were the two items i bought outside. and then inside, i found that yellow pyrex refrigerator dish (no chips!) which Julie has been hunting AND that 70s/80s era black, rotary dial phone. i've been hunting one of those for quite some time. i really wanted it to work (so many of them have open/frayed wires and who knows if they would be "workable" again). but this little lovely had the telephone cord already attached: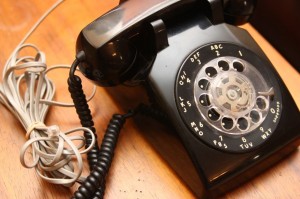 and the best part? it wasn't $100 (many of them are. truly). it wasn't even $50 (again, many of the non-working ones are). it was only $29!!
and i came home, plugged it in (yes, we do still have a land line. it's a local number. i don't know what it is. just call me on my cell.) AND IT WORKS. i could hear a dial tone. I AM THRILLED!
sam and davey thought it was really cool, too. i told them they could play with it if they're really careful.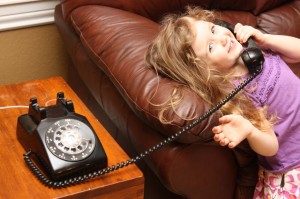 dave and i could overhear the kids taking turns making phone calls. after a few calls to family (including nana), they started calling God. yep. on the phone. so sweet to overhear their conversations!
it was a fun day, indeed.
tonight we're having steak for dinner with Heather and her husband, Paul. we're looking forward to the evening of entertaining (with our kids at home running around like crazy). we're still church hunting here, but tomorrow we plan to re-visit a church b/c a (new to us) friend is preaching.
*** and if you're nana (or anyone else) longing to see more photos of the kids and less of my projects/house/vintage finds, patience is a virtue. i just found some fun photos of the kiddos and hope to have them posted this week!