Wednesday: January 25
- Alex did NOT sleep well. she ended up in bed with us quite a bit.
-Yet another LATER than hoped start to our morning drive despite skipping the hotel's breakfast and spending an arm and a leg for breakfast at Starbucks (in the drive thru)
-just north of Redlands, CA traffic slowed to ONE LANE for several miles. ugh. that felt excruciatingly painful. we ended up stopping for lunch in Redlands. i sent LOTS of photos to Julie, 'cuz that's where her brother lives. she was a little jealous.
-the temperature throughout the day went from 71* to 72* to 75* to 77*!!!
-lunch at McD's again with an (gasp!) OUTDOOR play place! unfortunately, samantha's THIRD trip to the potty at McD's was not successful and we THREW AWAY my favorite pair of her Hello Kitty panties. yep. i did have a favorite pair of panties for her. and they are now in a landfill with poo in them. despite the fact that they were my favorites, i still feel very strongly that i made the right decision to throw them away.
-Alex was STILL (or again?!) constipated. poor girl. must've been all those peas she ate in Lynden for a few days before we began our journey.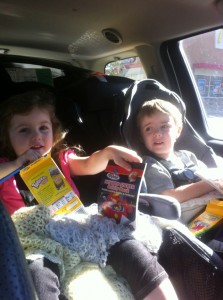 -the kids continued to open the most amazing "road trip gift bags" ever (oh-so-many-thanks to Mary Jo for putting those together!!!!). on this day, they both enjoyed some window clings (for decorating their windows for a change of scenery). since sam was in the middle seat, she ended up putting some of her window clings on her doll's head. and then, in all her 3-year-old wisdom, she told me she had a mommy doll b/c she had eyes in the back of her head. that girl really makes me laugh sometimes!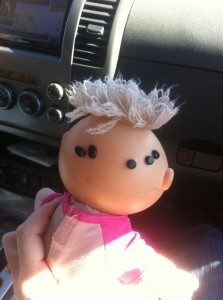 -drove past Magic Mountain outside of LA. dave and i went there back when we were dating (about 3 weeks before we got engaged). it was valentine's weekend and we took a road trip to visit his sister (rachel was at The Master's College) and his friends (Justin & Brent who were living down there) and his grandparents (they were visiting great Uncle John who passed away a few years ago) and some of my friends (Jenny & Bobby!). i remember wearing Brent's sweatshirt b/c it was chilly and i was only wearing a t-shirt and we'll end the story there.
-we drove through a car wash b/c the pathfinder DESPERATELY needed it!
-did you know: THE SUN MAKES EVERYTHING BETTER?!
-we arrived in Arizona and still had several hours of driving to go. ugh. that felt a bit anti-climactic.
(note: a certain little girl REFUSED to get out of the car for these photos).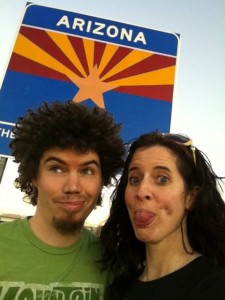 -we arrived at the hotel in time to visit with Tom, Jenni, Blake, Lacey & Jada. Dave & Tom drove to the houses to shuffle around our OTHER vehicles (which arrived earlier in the week) and to check out each other's houses. as the kids and i were saying "good bye," Jenni and I got some nasty looks from some other hotel guests (i guess our kids were a little too loud?!) but they were so thankful to be out of the car(s) that we had a hard time "controlling" them.
and now you have read our journey from beginning to end. all the grand adventures (and foibles) leading up to the road trip and then the journey itself. i have one more story to share with you…. it's called MOVING IN day and it's pretty grand. but that, my friends, will have to wait for another time.