Tuesday: January 24
-We enjoyed waffles for breakfast (well, the kids and i did) in the hotel (hooray for "breakfast included!")
-Dave had the hotel manager give our battery a JUMP start so we could get on the road
-We STILL left later than planned. ugh.
-Drive from OR to CA
-In-n-Out for lunch
-Davey was busy coloring/drawing while the girls napped. around 4:30, he said "i'm going to throw up." shoved an Ikea kids' plastic bowl under his chin and he almost filled it to the top. Ugh. we were on Highway 99. we pulled off the highway. i opened my door and "flung" the contents of the bowl onto the ground. it was really gross. and i felt quite queasy after that. thankfully, it appeared to be car sickness rather than the flu.
-Qdoba for dinner
-stopped at Walmart (around 9pm) to buy "tire foam" for our slow-leaking tire (we discovered there was a large piece of metal in our tire). after waiting the allotted time and driving slowly, we returned to the highway to continue our journey. 5 minutes later, we heard a loud noise and our tire went flat. completely flat.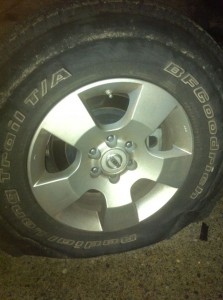 dave was my SUPER HERO and figured out how to access the spare. jacked up the car. removed the flat. replaced it with the spare (which, fortunately, was a full-size tire). figured out how to put the flat tire where the spare once was. reloaded the car. and we were driving away – all before AAA would have even FOUND us!
-VERY late arrival at our hotel that night. davey did NOT want to wake up the next morning.  :)