if you'll recall, almost all of our worldly possessions were loaded into a moving truck in the middle of a snow storm back on Tuesday, January 17th. i remember the date clearly b/c it was two days before my birthday. one of the worst birthdays ever. ugh. but i digress (as usual). so by Friday, January 27, we were MORE than ready to see our stuff again. our beds. pillows. refrigerator. couches. dishes. grill. you get the idea.
we decided to borrow some "camping" gear from Tom & Jenni on thursday night the 26th and we "camped out" in our new house! dave and i shared an air mattress on the floor of the master bedroom. alex slept in her pack-n-play in her room. but by the time the movers arrived (sometime between 7 & 8 am), however, alex had taken over our mattress: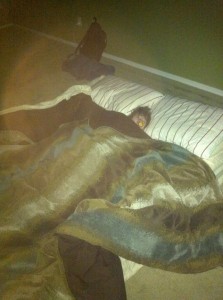 davey and sam slept in camo sleeping bags (thanks for the loan, Blake & Lacey!) in the loft: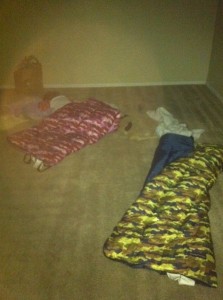 it may very well have been a FIRST time for EITHER child to sleep in a sleeping bag. neither one was entirely sure how to properly "use" their sleeping bag. here are some close ups:
davey completely buried himself in Blake's bag and samantha used Lacey's bag to cover about half of her body.
i don't think i can even describe to you what a JOYOUS sight this was: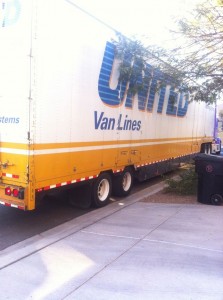 while we waited for the movers to arrive and get busy unloading our stuff, i set about to feed the children a tasty and healthy treat-filled breakfast of chocolate milk and donuts…. only the best that a gas station convenience store can buy for my kids! (in truth, they got to choose their donuts at Safeway the day before, though they like gas station purchased mini Hostess donuts just as much).
davey and alex were cooperate photography subjects. but miss cranky-mc-cranky pants wanted nothing to do with the camera. i think she needed a few more HOURS of sleep.
(side note: i don't know if it was an abnormally cold morning or if all mornings are like this, but it was REALLY COLD that morning. the kids and i were all bundled up and sam was so cold she wouldn't eat her donut b/c she had to wear mittens on her hands)!
(check out her eye lashes!)
at some point, the day warmed up and we all got dressed in a few less layers. i figured it would make sense for me to start unpacking the kitchen first. so as boxes came in, i got to work. i had NO IDEA there were SO. MANY. BOXES of kitchen stuff. ugh. i ended up unpacking the kitchen for at least two full days before i'd made 90% progress in there. and for those of you who know me well… you know i don't dilly dally and i don't fret about where to put things. i just put them somewhere and move them later if needed.
at some point, i took an unpacking break to peek into the truck….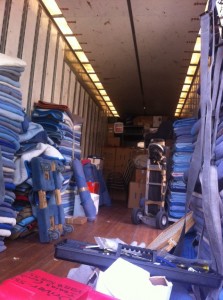 … that's a LOT of moving blankets, batman!
(it's hard to see b/c this is an iPhone photo, but our patio chairs are stacked up in there ready to be moved to the back yard and our grill is suspended in mid air on some boxes with stuff packed all around it. CRAZY!)
along with getting our STUFF on friday, we also got connected to the internet. if you know dave, you know that yes, indeed, this is TOP priority. it took the guy less than 30 minutes to get us up and running. well, not fully running – dave had to unpack a LOT of boxes to find our wireless router!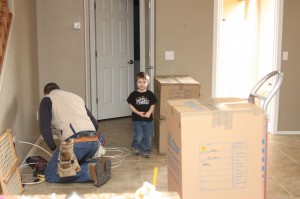 many, MANY thanks to Jenni for providing our dinner that evening (chili) which was an especially amazing feat since their belongings had only been unloaded the day before!
and THAT, my friends, is the end of our journey TO arizona. now the journey IN arizona begins!