what kid wouldn't want a house made out of candy? i know i would have. as far as i'm concerned, hansel and gretel were LUCKY to get lost in the woods and find that witch's house. my sweet tooth ached every time i heard that story. heck, even THINKING about it right now makes me salivate. it really does.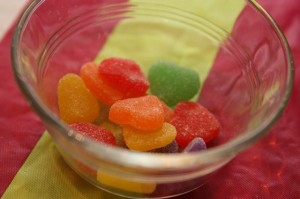 so as part of our Christmas season, we decorated a gingerbread house. this year, i'm VERY THANKFUL for the pre-assembled gingerbread house kits at costco. no frustration trying to keep walls upright as you add the roof…. but all the FUN of candy and icing and decorating!
i love this photo of dave and davey's hands busy working on the house: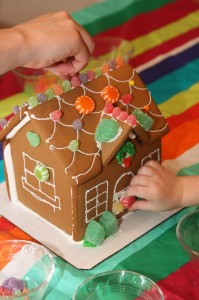 and davey's pretty happy to be working on it. (i THINK that's a hot chocolate mustache on his upper lip… but i could be wrong)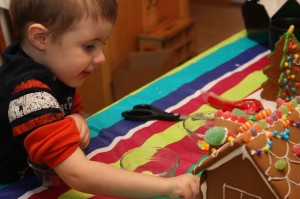 and here they are, with their finished masterpiece: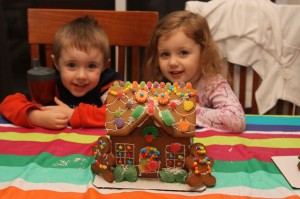 and strangely enough, the house looks pretty much the same now, a month later. they only ate a little bit of the candy as the month wore on. (don't worry, though, they DEFINITELY have sweet teeth like their mommy. i'm just pretty good at monitoring and limiting what sweets they enjoy each day)!