and so the story continues….
[though my in laws have already posted some of these photos on facebook and, thus, have stolen my thunder... especially since they're my photos!!!]  -  (it's okay, dad&mom… i know you just wanted to share your family with the rest of your friends!)
after everyone left on Christmas eve and our kids were "nestled all snug in their beds," dave and i filled stockings, finished cleaning up and prepped for Christmas morning. which included me pulling out glue dots, pipe cleaners, google eyes and two 6-packs: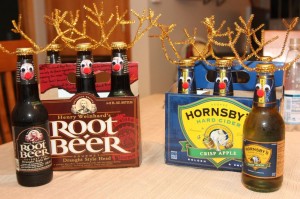 on the left you'll find some Root Deer and on the right you'll find Rein Beer (though they're actually Rein Hard-Apple-Cider).
we had hoped to attend church on Christmas morning. after all, Jesus IS the reason for the season, so we SHOULD have been in church. but on a "regular" sunday, it's pretty hard for us to get to church in time for Sunday School at 9:45. we usually arrive at 10, and that's with cereal for breakfast, rushed showers and getting dressed… if you have kids, you know what it's like to try to get out the door to be ON TIME for church (forget trying to be there EARLY). so we knew there was no way we could wake up on Christmas morning, open stockings AND presents, eat breakfast AND be at church ON TIME or even JUST A LITTLE LATE for the 10 o'clock service. and that was the ONLY service time our church offered. so we were heathens (on Christmas… SO NAUGHTY of us!) and we enjoyed a mostly relaxing morning at home. but you already know all about our stockings and our Christmas breakfast of tasty gluten free waffles smothered in cool whip and strawberries. so i'll move on (though i'm now salivating).
it was our goal to be at dave's parents' house by 11. i think we arrived a little after noon. but no one minded this year. whew! after our greetings and opening stockings and snapping some "cousins" photos….
oh, right. COUSINS photos. i'd better share those with you or i'll get in trouble.
amity was pretty enamored with alex's binky. she kept taking it from her on Christmas Eve and again on Christmas day. it was comical, actually, because amity has NO INTEREST in her own binkys. never has. but she would NOT leave alex's alone. out of the 4 photos above, i love the 3rd one… davey's trying really hard to (kindly and gently) keep amity AWAY from alex's binky… what a great big brother!
following the photo sessions, it was time to get the rest of the "festivities" underway.
we settled in and davey (with his super-cute TIE!) sat with grandpa for the reading of the Christmas story from Luke 2.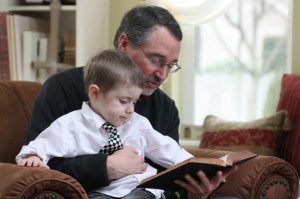 davey did interrupt grandpa at one point to ask for another story (i suppose he wanted one with pictures?) but we made it through and every year i'm thankful that the dunkin family takes the time BEFORE all the fun festivities to sit down and remind us WHY we're together for the holiday.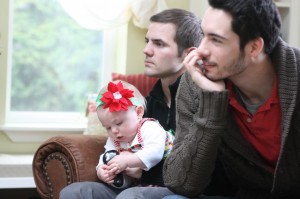 (amity was a little more interested in her shoe than in the Christmas story. and as a side note, look at that ADORABLE headband that her mommy, dave's sister RACHEL made! yes, that's a pointsettia flower made out of felt. hand cut. hand stitched. AND SO CUTE. but i digress…. as usual.)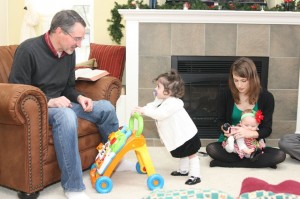 alex enjoyed showing everyone how to use her walker. unfortunately for us, this is pretty much one of the only times she has WALKED with it. she's not interested. but she LOVES to play with this toy.
following the reading of the Christmas story and a few extra minutes to make a mental shift, it turned into gift craziness. and i do mean CRAZYness. gifts are usually opened in age order from youngest to oldest. one at a time. that way everyone can see what everyone received and gave and it's fun. lots of talking and laughing and distractions. but since we were all together this year, that would've meant Amity – Alex – Samantha – Davey – Tom – Taryn – Jeff – Sterling – Rachel – Dave – Me – Mom – Dad. but the kids, obviously, want to open all of their presents right away. and they want to play with every present right away. so this year we were out of order from almost the beginning. everyone missed seeing several gifts opened. it was a madness of paper and tissue paper and boxes and bows and tags everywhere. BUT IT WAS FUN. it was family. it was TIME.
grandpa & grandma found the CUTEST little doll for alex: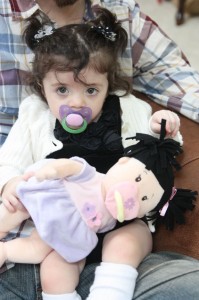 the doll has two dark haired pigtails and a binky just like my little girl! SO. SWEET.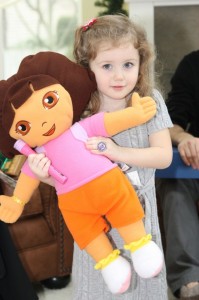 samantha received a DORA doll/pillow.
and many, MANY gifts later (this was one of the LAST gifts opened), Sterling opened his gift from me. (quick side note: the siblings and spouses all draw names around Thanksgiving each year to decrease the amount of gifts we need to buy, wrap, transport and give. this year i drew STERLING's name. he's married to dave's sister, Rachel. some years, we provide "ideas" of gifts on our paper slips drawn at Thanksgiving. this was not one of those years. and i really did NOT want to resort to a gift card… i wanted to figure out SOMETHING without asking rachel what sterling wanted or needed.). i think he really liked it. he acted like he did. and since you can't see what's INSIDE that blue box (many thanks to AMAZON for the box pilfered from another present we opened at our house that morning), let me tell you. INSIDE the box are most of the ingredients for sushi (rice, nori seaweed wraps, rice vinegar, wasabi paste, soy sauce, a bamboo mat and i don't remember what else). and wrapped separately OUTSIDE the box was a book titled "Sushi for Dummies." yes, my friends, at some point between Thanksgiving and Christmas, i was reminded that sterling LIKES to cook. and he and rachel are pretty adventurous with food. so i crossed my fingers that they like sushi. turns out, they do! the gift was a hit. it was creative, somewhat entertaining (if you've never read one of those black & yellow "________ for Dummies" books, you HAVE to. they're hilarious!) and different.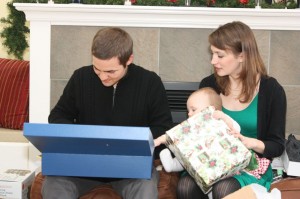 and if we weren't moving in just two weeks, we'd probably plan a day to drive down to seattle for a sushi dinner with them!
it was really cute on Christmas Eve AND on Christmas Day to watch the two A cousins play together… Alex and Amity. they are, after all, only 7 months apart: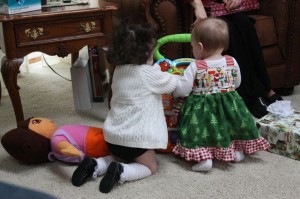 After a tasty ham dinner (many, MANY thanks to mom for pulling that together for our enjoyment!) and in the spirit of FAMILY, grandpa & grandma wanted their photos taken with all FOUR of their grandkids (it's not often that they're all together):
and yes, those two are the BEST of the twenty-ish photos we snapped!
and just before we all went our separate ways for the remainder of the night (only a few hours), we wanted to capture a family photo. or two. or three.
and after these photos, we took some photos of the smaller family units. but i'm tired and i want to go to bed. and i've already shared our Family of Five's photo with you (on Christmas Day), so i won't repeat that. so with this post, i conclude my blog posts about our Christmas celebrations.