i'm one of those weird people that (until this Christmas) had never made sugar cookies in my adult life. i'm sure i made them a few times when i was a kid, but since i'm a chocolate chip cookie aholic, i never bothered to learn the art of sugar cookies. but something kept telling me "this is the year." so armed with a sugar cookie packaged mix (yes, i cheated – quite proudly, i might add) AND a gluten free packaged cookie mix, i set about making a LOT of sugar cookies one evening. i even got a little "creative" by adding cocoa powder to the GF cookie mix. in hindsight, i should've only added it to HALF of the mix, but what's done is done. a few days later, we REMEMBERED the cookies and the two older kids and i got busy decorating. i strapped alex into her booster chair so she could watch (and eventually eat several NON-frosted GF cookies).
i let davey and samantha decorate the regular sugar cookies and i attempted to tackle the GF ones. JUST IN TIME, i remembered that i needed to separate all of the frosting colors into two batches: one for regular and one for GF. see, once the knife is used to spread frosting (should i be calling it icing?) on the regular cookie, you can NOT dip that same knife back into the frosting to use on a GF cookie. OR if you use a separate knife on the GF cookies, you still can't have "double dipped" a knife that touched a regular cookie into the same frosting dish. does that make sense? basically, you need to avoid getting any REGULAR crumbs into the frosting so you can still use it on the GF cookies (yes, some people are so gluten intolerant/allergic that even ONE CRUMB can cause significant health issues). but i digress.
here's our frosting containers we used for the REGULAR cookies: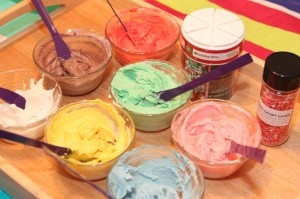 and here's the frosting "container" we used for the GF cookies: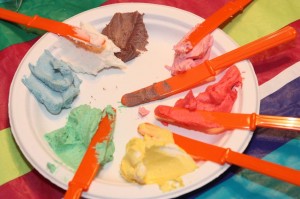 since i had to help the kids (a lot) with frosting their cookies, i washed my hands a LOT (after touching the regular cookies i had to wash my hands before i could pick up a GF cookie). thinking about cookie making in the future: we'll probably make regular cookies one day and GF another day – it'll just be easier.
samantha really enjoyed the process.
samantha's favorite part was eating the "extra" sprinkles from the cookie sheet!
davey did really well and while some cookies were EXTREMELY heavy (and gloppy) on the frosting, he was able to frost several of his cookies on his own.
alex simply enjoyed eating SEVERAL of the cocoa-powder-added GF cookies: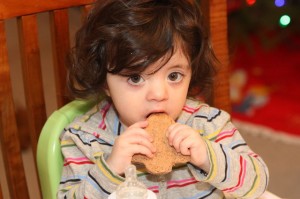 these were some of the cookies i decorated. you'll see i eventually got a little bit smarter and i pulled out plastic sandwich bags and cut a little hole in the corner to make decorating a little easier…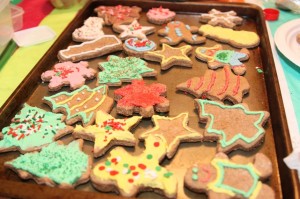 dave was home from work early enough that he was able to join in on the fun, too:
(please note, dave decorated WAY more than those two cookies but for unknown reasons, i do not have a photo of his cookie collection).
and there you have it. our first attempt at making and decorating sugar cookies. it WAS fun. i look forward to next year's sugar cookie adventure now that i've learned a few tips and tricks!