unfortunately for those of you who read the post title ("baileys and ice cream") this post is NOT about alcohol. bummer, i know. it's actually BETTER than that. it's about our friends, the baileys, who up and moved across the country last august. they moved from lynden where both justin & brandi were raised. where (almost) brandi's entire family still lives. where justin's parents and brother live. and yet the moved. to south carolina. they followed God's call on their lives. and he made the transition as easy as possible for them. that's not to say there weren't tears. that's not to say there aren't days they wish they were back here. but they are where He wants them. they are walking in His will for their lives. and He is right there beside them, helping them transition, make friends, get grounded in a Bible-preaching church. and we were blessed enough to have an ice cream date with 4 of the 5 baileys while they were "home" for Christmas.
justin & dave: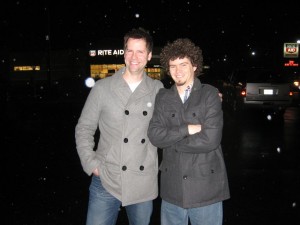 their dads were friends in college. and seminary. and they have been working together (senior pastor & associate pastor) at our church for the past 18(ish) years. fun facts? their moms were pregnant at the same time and these boys have birthdays that are EXACTLY one month apart (july 28 and august 28). they were "friends" from birth through age 6 months and then they became friends (by choice, not force) when dave's family moved to Lynden when the boys were in 9th grade.
the baileys have 3 kids…. Emma (6), Jaden (4), Jett (1). Jaden didn't want to find/put on his socks or shoes so he stayed home with grandma. i was a little bummed about that b/c i wanted to see jaden & davey together… their birthdays are about 2 months apart (july and september). but davey and samantha had FUN with emma:
[normally i wouldn't allow "ring around the rosy" at a restaurant, even if it's "just Dairy Queen," but i let go. they were having fun. they weren't being too loud. and instead of "falling down" they all "jumped up" or something equally creative.]
sorry brandi, this is the best photo i got of jett and at least you're smiling in it!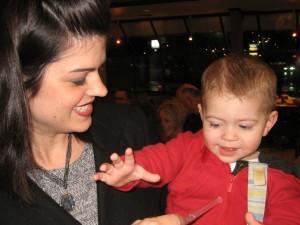 i am so thankful for friends who MAKE TIME for us in the midst of holiday craziness.