…and the presents were piled high:
…and the tree looked really pretty: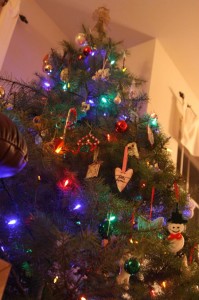 dave got up early on Christmas morning when sam came into our room. she'd had a little too much juice and water before bed the night before and she was soaked. since dave got up, i rolled over and drifted back to sleep. sort of. but then i heard these noises. not quite squeals of delight, but almost. and then i clearly heard one phrase: "…AND DO-WA BAND AIDS!" at this point, i realized samantha and dave were downstairs opening stockings and i didn't want to miss it. so i rolled out of bed and went to join them.
i found samantha taking things out of her stocking ONE. ITEM. AT. A. TIME. and then she had to display each item on the floor: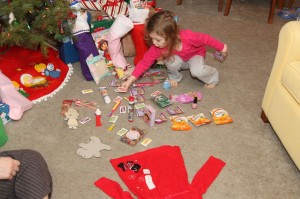 (turning to me, dave said "she's DEFINITELY your daughter")!
(sam's contents: nailpolish, dora coloring book & band aids, candy cane ornament, smarties, goldfish crackers, fold up hairbrush & mirror, pez, stickers, gingerbread men, princess to color, make-an-ornament kit, princess toothpaste, toothbrush, princess socks, shirt, hair ties, candy canes, pig splat toy and i don't remember what else)
dave had already opened everything in his stocking. he seemed pretty happy. and he really liked his ornament: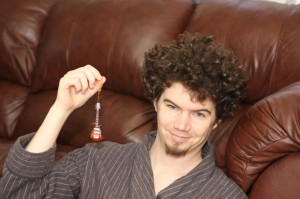 it wasn't much longer before davey joined us. he thoroughly enjoyed everything in his stocking, as well, though he didn't feel the need to display all of it like sam did. he did, however, feel the need to play with EACH ITEM as it was removed from the stocking. i think you get the idea that our stocking-opening took a little longer than i had expected!  :)
(davey's contents: marvel superhero coloring book, toy story band aids, toy soldier ornament, smarties, goldfish crackers, pez, stickers, gingerbread men, race car to color, make-an-ornament kit, toy story toothpaste, toothbrush, iron man socks, shirt, candy canes, tomato splat toy and i don't remember what else)
and while i was watching davey and sam, alex woke up and dave went to get her. she, apparently, was covered in some body waste and needed a quick bath before she could come downstairs to open her stocking. the other kids helped her "open" her stocking. alex was really interested in eating. she kept trying to "pick up" the picture of a cracker (thinking they were real) and put it in her mouth. she did it with goldfish crackers:
… and animal crackers: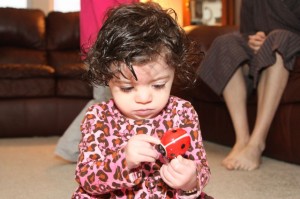 (alex's contents: goldfish crackers, blueberry flavored puffs, shirt, smarties, hippo on wheels, wind up ladybug, folding brush with mirror, toothbrush, animal crackers, hair ties, and more)
following stockings, we enjoyed some pretty tasty (gluten free) waffles (hooray for a tasty pancake/waffle mix by King Arthur Flour) topped with cool whip and strawberries. mmmmmmmmm! alex didn't get to enjoy the cool whip or strawberries, but she ate 3/4 of a waffle… ALL. BY. HERSELF. i've said it before and i'll say it again: this girl has a HOLLOW leg!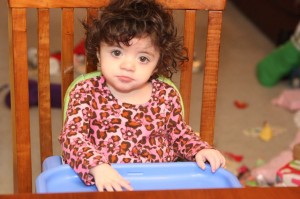 and then it was time to get dressed and head across time for Christmas with the rest of the family.