i never thought i would swell up with pride over some songs with motions. but i did… TWICE.
on sunday evening, davey joined his pre-school sunday school class in singing "Away in a Manger" up on stage with the big kids during their Christmas program. he was NOT thrilled about being awakened from his nap to do so. but once on stage, the little guy was great!
the second time was less than 2 hours ago. our whole family was able to enjoy davey's pre-school class as they sang about 8 songs (complete with motions AND jingling of jingle bells!). dave has some video and i snapped some stills. it might be awhile before i gain any access to the video segments, but in the meantime, here are a few photos of my little guy…
singing "way up high, in the sky…"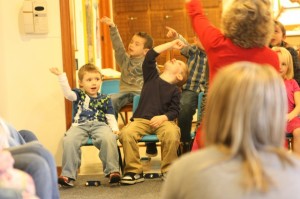 what kind of "good" mom would i be if i didn't include the required NOSE PICK shot?!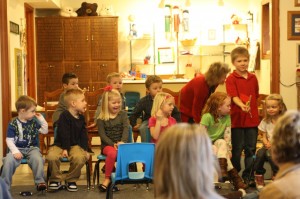 and i watched those kids. i think my son was the ONLY nose picker. thankfully it was short lived near the end of the program and i was able to distract him quite quickly. whew!  :)
i wanted to have a picture of davey and his teacher, Teacher Leslie, and her amazing Christmas decor… a tree decorated with stuffed animal BEARS, a fun train (that works!) and that cool carousel (or merry-go-round…. depending on what you call it). i took two photos…. this was the best one (because davey was…. you guessed it, PICKING HIS NOSE!, in the other one).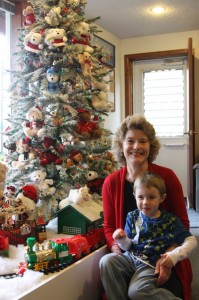 many, MANY thanks to Teacher Leslie of My First School in Lynden!