"… tied up with string,
these are a few of my favorite things!"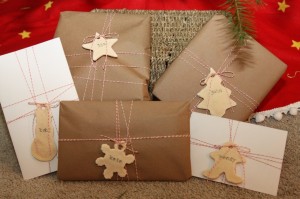 these pretty packages are already in New York. they're under a Christmas tree and they are waiting to be opened. hopefully my family, John, Babi, Liz, Kate & Wendy, will be thankful for the contents.
but until that moment when they're given to the recipient and they're ripped to shreds for the contents… until that moment, they are beautiful. brown paper. red & white bakers twine. homemade salt dough ornaments hand stamped with the recipient's name.
there are more packages like these under my own tree (with different names on them, of course). as silly as it may be to some of you reading this post, i LOVE the way i've wrapped these gifts. it's exactly what i envisioned. and it's rare, REALLY RARE for one of my visions to become a "perfect reality." so these packages make me extra happy. and i'm just as excited about the CONTENTS of the packages… I LOVE to give presents!