tomorrow samantha will turn THREE. we celebrated her IN STYLE tonight!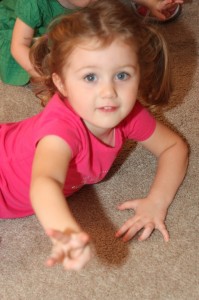 i spent the afternoon DECORATING a gluten free chocolate cake that i made from scratch yesterday.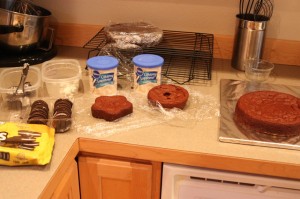 over the summer, i bought these CUTE disney princess figures at a garage sale. i KNEW sam would want a PRINCESS party/cake and i figured i could just stick those figures on a rectangular cake and call it a day. unfortunately for me, samantha decided she wanted a MINNIE MOUSE cake. seriously. and i wanted EVERYONE to be able to eat it, which meant it had to be gluten free for daddy and auntie taryn…
overall, it wasn't that bad. i had a few issues, but in the end, i'm pleased with minnie's outcome: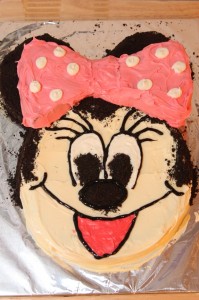 while dave was busy making Musseman (sp?) curry (a thai stew), and i was busy decorating the cake, nana decorated the house:
she did a GREAT job.
Uncle Sterling, Auntie Rachel and baby Amity came up (from West Seattle) for the party. Amity and Alex are 7 months apart in age… but i think they're almost the same size and about the same weight!  :)
baby albert brought his family (minus his dad who is in brazil for work) and he's 4 months younger than amity: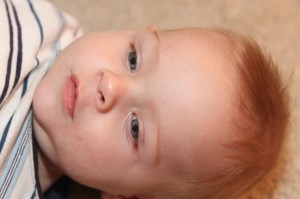 my apologies to the party attendees… i failed at taking photos (especially of the Ball family – THANK YOU for joining us!) perhaps i should have a "designated photographer" next year?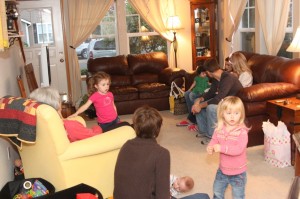 i loved capturing this sweet moment between grandma & samantha (sorry i didn't crop the photo yet, carrilee!):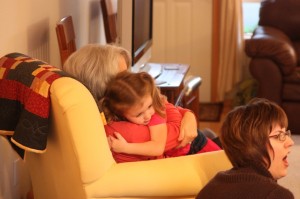 Auntie Rachel, Nana and baby Amity: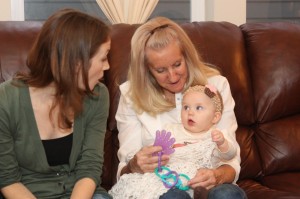 Sam and one of her BEST friends, Jorja: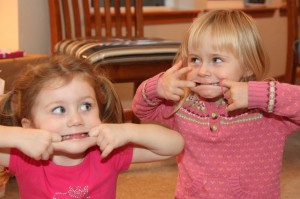 Henry, Jorja, Samantha and Davey: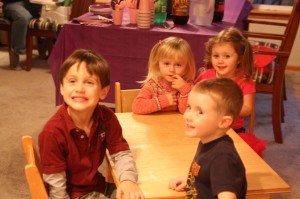 enjoyed Mickey Mouse chicken nuggest and crinkle cut french fries: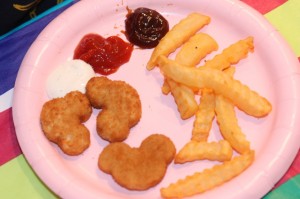 and then it was time for presents!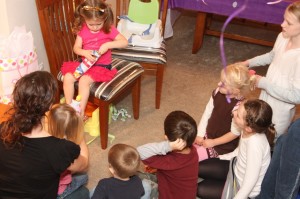 Sketchers Twinkle Toes & princess dominoes from Nana (& an amazing, homemade Super Girl cape not shown):
Veggie Tales "girlie" DVDs from Uncle Jeff & Auntie Taryn: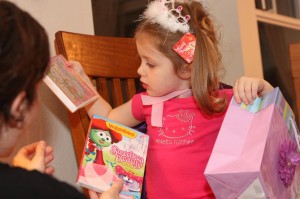 a BIG box from Daddy, Mommy, Davey and Alex…
it contained a Cinderella baby doll (you can see a photo of it at the bottom of this post). she also got Minnie Mouse underwear from us AND tomorrow (probably at dinner) she'll get to use a new Hello Kitty placemat, plate, bowl and cup (she hasn't seen them yet)!
girlie sheets from Grandpa & Grandma (Minnie Mouse sheets):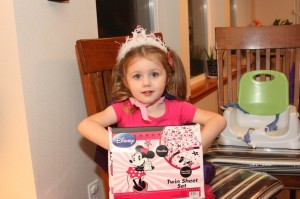 she also received some amazing Hello Kitty items from Auntie Carrilee and family (and some hand painted pictures from Henry!), some Princess items & Hello Kitty purse (and the pretty crown/tiara she's wearing in many of the photos) from Uncle Sterling & Auntie Rachel & Amity and some great hand-made cards from Elise, Becca, Bethany & Sarah.
after dinner and presents, it was time for CAKE and ice cream!
alex even got to enjoy some cake: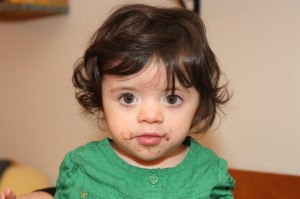 and when the party was mostly over, davey curled up with uncle jeff and samantha crawled into auntie taryn's lap….
and now there is proof EVERYWHERE in our house that GIRLS LIVE HERE, TOO!
all-in-all, i'd say it was a successful party. and while i was cleaning up in the kitchen and samantha was sitting on a chair playing with her new cinderella doll, she melted my heart when she non-chalantly said "thank you for my party, mommy!"
but i'm very glad i have 8 months to recover until i have to do a double party (alex & davey in july)!
happy birthday, sweet samantha!