so it's late. but not quite midnight. and here's the final tally for today's TO DO list with the update from 4 hours ago in BOLD ITALICS:
1. put away laundry (from Monday and yesterday) – HALF WAY FINISHED one load left to put away. but it's the kids' stuff and they're sleeping. so it can wait. i call this SUCCESS!
2. Perform AT LEAST 3 hours of work for Strategic (my grown up job) – due to a work "emergency," for my colleague (i work on her claims), i ended up billing 4.3 hours. hooray for a BIG CHECK MARK on this item, but that means a few other things haven't been started let alone finished yet.
3. finish my Bible study (for tomorrow morning!) – CHECK!
4. Make a snack for Bible study tomorrow (pumpkin spice bread and/or cookies, anyone?) - cooling as i type this update (and i made both the bread AND the cookies!) – major success that i haven't eaten any yet!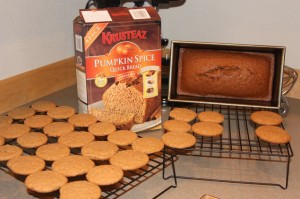 (i LOVE this mix from costco. it's only available seasonally. i use a metal strainer to filter out the nuts. i don't like nuts in my baked goods.)
5. finish sewing pacifier strap clips to the straps (less than 10 left) - CHECK… AND i went ahead and glued ALL the felties to ALL the straps i have stitched over the last week…. all 55 of them!
see: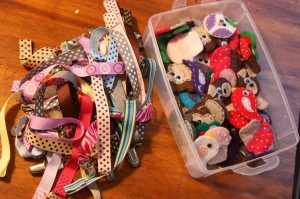 (and that photo is awful b/c what looks to be RED is really a funky PINK color)
6. visit Dutch Mothers to "clean" my stuff and collect any money (and then take that money to the bank) - DONE. i only made $5.40 this week. but that's better than nothing, i suppose. i guess tourist season really is over!
7. give D&S a bath – CHECK!
8. write check for Davey's pre-school "tuition" – DONE
9. write notes/e-mail messages to people that i thought about on Sunday (see church bulletin for my "list") – turns out there were only two i still had to do. – DONE!
10. take at least 45 minutes for MYSELF to do NOTHING!  :) this probably won't happen until LONG after the wee ones are in bed. i can handle it, i think!
I was able to accomplish all of this for a few reasons:
- it's Wednesday and my MIL watched D&S on Wednesdays (from 10-4)
- my MIL drove D&S home b/c Alex was still napping
- my neighbor picked up dinner for us: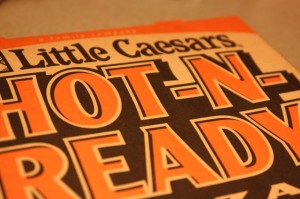 - i had the above LIST from early this morning and i really wanted to be SUCCESSFUL in finishing it!
- dave is working late so i could do things "my way" (and we could have pizza, loaded with gluten, for dinner!)
- i have children who are (mostly) well behaved and "easy"
thanks for bearing with me today through this crazy (and boring) TO DO list, the TWO updates and… um… yeah, that's it. tomorrow i will not try to be so productive. nope.