with the craft shows looming, i had to create a good display for my headbands. see, i spent a few days making about 60 headbands. and they won't all fit in the clear one-gallon paint buckets i used last year. i had an idea for a cool display, but after buying all the items, i was still hesitant. i was afraid it was going to look homemade. poorly homemade. but with a deadline of Sunday, i finally pulled out the project today. and i LIKE the results (though it's not 100% finished yet)!
-start with a trip to Lowes or Home Depot for a $7 PVC-type drainage pipe. i think it's about 10 feet long. measure ahead of time b/c unless you have an SUV or a truck with a very long bed, you won't be able to fit it in your vehicle (i got very, VERY lucky… it JUST fit in my 2007 Pathfinder).
-next up: a trip to Joanns for batting and some crushed velvet material.
once home and ready to embark on said project, use a hand saw to cut down your drainage pipe to your desired size (i had my husband cut me three 2-feet sections). then cut batting and fabric to wrap around the pipe. (my fabric was approximately 20″x35″).
make sure your headbands are nearby… they'll inspire you to KEEP GOING!
wrap the batting around the pipe and lay it on the WRONG side of your fabric: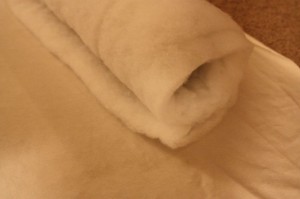 wrap your fabric around the batting-covered pipe and use straight pins to secure it: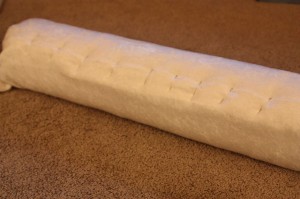 run a quick whipstitch down the length of the pipe to secure the fabric and batting in place: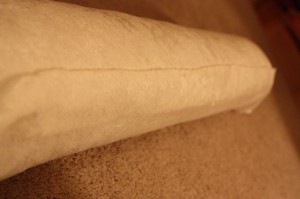 take a moment to admire your handiwork.
add some of your favorite headbands to your completed display piece(s) and imagine HOW PRETTY they'll look in your booth!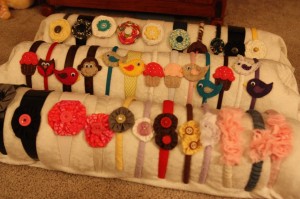 (my "ends" are unfinished. i plan to simply gather the ends and tie a ribbon around them (kinda like a wrapped candy or a bolster pillow).
not bad, eh? yeah. i'm pretty happy. and i hope i sell a lot of headbands this year!