sometimes we take photos for no reason at all. these, however, are simply to showcase how cute alex looks when she wears a headband after having her hair freshly washed.
if you're curious, the headband did NOT come with the onesie, though it matches well. also, the headband stays on for anywhere from 30 seconds to 5 minutes before it is ripped off.
this photo is PROOF for grandpa & grandma that alex DOES like the present they bought her for her birthday in july: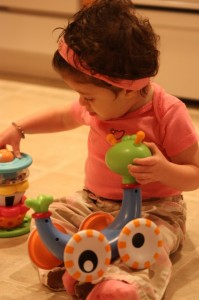 and while blurry, this is a new favorite of mine: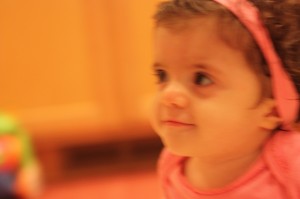 and sometimes daddy comes home while mommy is only somewhat paying attention to dinner but is fully paying attention to photo taking: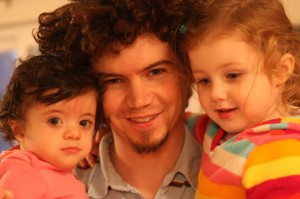 (and he loves me anyway!)
and every now and then (rare, though it is), THIS child will give me a REAL, GENUINE, HONEST smile: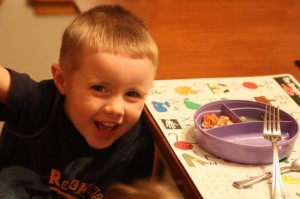 i love my life.
on a side note:
- nana is stil here and i'm busy doing things that don't need to be done and NOT doing things that DO need to be done
- dave and i have a trip to arizona (with the boss and his wife) coming up soon
- our house is OFF the market (officially) until after the holidays (i needed a break); we received ZERO offers. zero. in 5 months. God's timing, not mine, right?
- our Pathfinder will be PAID IN FULL in november. one more payment. whew.
- Karla is home from the Tacoma Dome show. we did not do as well as we had hoped (even on the very conservative spectrum). so i have lots of items to put into the other (and local!) shows… and to photograph and add to my etsy shop. and yes, i am still making more/other items to sell at the shows.
- i have succumbed. i now have a Pinterest account. it is scary. and wonderful.
- i purchased a Christmas present a few weeks ago. it's for baby amity (dave's sister's daughter). yep. one down. we don't need to mention that i missed THREE family birthdays for the month of October (but hey, at least i remembered Sam's!)