… makes an appearance on my blog!
(from left to right: Jimmy, Hillary, Audra, Bob, Dave… and I'm the photographer). we enjoyed a weekend (Thursday night to Sunday night) trip to Las Vegas during Labor Day weekend. we were checking out real estate for the possibility of opening a development (aka: computer geek) office there… and the possibility of our family MOVING there so dave could build and run the office.
Hillary is due (with her first!) in November. sweet baby Stella is inside there and this is actually Stella's SECOND trip to Vegas (both trips "work related" for Stella's daddy)!
we stayed at Wynn (from what i hear, it's one of the nicest hotels on the strip). i will concur that it's NIIIIIICE!
(see the hotel over Hillary's left shoulder?).
We were up on the 55th floor (there are only 60 floors), which meant we got to take a special set of elevators that bypassed floors 2-37. these next two photos were taken from our window, which was actually one entire wall of our room:
[i can tell you that Wynn has a pretty nice gym. in fact, A&H are pretty good at working out VERY regularly. and i've been trying to "up my game" a bit (aka: i'm trying to not be such a couch potato) so i went to the gym with them. i had pretty much no idea what i was doing, but while waiting for a treadmill to become available, i rode a bike for 25 minutes. then i ran (for the first time in 14 years and 9 months - i kid you not!) for 20 minutes. i felt GREAT! not at all sore (i probably could've pushed a little harder on the run, but i didn't know how to operate the machine!). and later that day when i enjoyed gelato or ice cream or something else fatteningly delicious, i did NOT feel guilty!]
crazy, weird, large, cheap necklaces. no, we didn't buy them. audra kept trying to "get" them. i think there's nothing to "get" other than a pile of cheap plastic in your hands and less money in your pocket!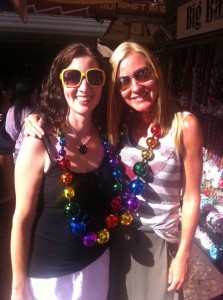 i must confess, i didn't take all that many photos on our trip. in fact, we didn't even take dave's SLR on this trip! that said, you have now seen all the photos of the strip that i took. seriously. that's it. if you've been to vegas, you probably understand. it's just too hard to take photos… it's overwhelming.
one night, Bob took us to the OLD las vegas strip, Fremont Street:
in an attempt to continue to attract tourists (and gamblers!?), they added a roof with crazy computer graphics (man, is that what you'd even call them?). personally, i'd rather see the sky. but whatever works, right?
hillary and i got a kick out of these birds sleeping in the parking garage: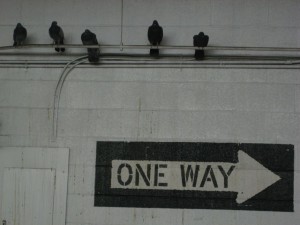 on Saturday, Hillary and Audra stayed behind to enjoy the gym and the pool and other fine amenities while i joined the boys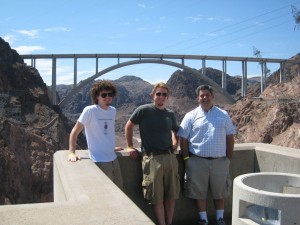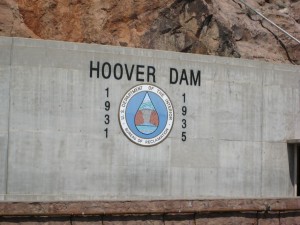 we enjoyed the "full" tour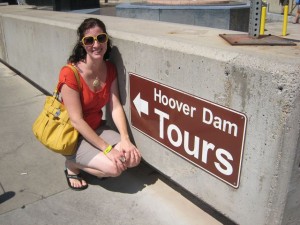 which afforded us an elevator ride down into the dam, a walk through a tunnel and a peek into the inner workings of the whole operation.
(see that hole? it's an old explosive hole that was drilled into the rock to blast it out… so cool)! did you know that the Hoover Dam was called Boulder Dam for the first 14 (i think?) years. did you know that they finished it 2 YEARS ahead of schedule? did you know we had a socialist for a tour guide? yeah.
did you also know that the Hoover Dam is in Nevada AND in Arizona? my geography is pretty bad, but i had NO IDEA that Las Vegas was that close to Arizona. (perhaps it's time for me to look at a map?). Dave and i (per my request) were real "tourists" here… we put our feet in both states at once. i can't help it: i'm a sucker for stuff like that. (i'm also a sucker for squashed pennies… and i scored TWO good ones at the gift shop).
it was freakin' HOT that day. well over 100 on the Strip, which means in the desert, in the afternoon, with all that concrete, it could easily get up to 120*.  i'm glad we were headed AWAY from the dam by noon!
we enjoyed lunch at an IN-N-OUT and then we visited a few residential open houses. we found a SWEET set up for just under $600K. A 5000 sq foot house with an in ground pool and a 1400 sq foot guest house all on a (just smaller than) 1-acre lot. by the time we got back to the hotel it was almost 4 and the girls were done working out AND relaxing by the pool. i joined them for some shopping while jimmy & dave hit the pool and bob spent time on the phone talking about the house!
as silly as these are, these are two of my favorite photos from this trip:
on Sunday, dave and i talked about going to the hotel pool together. but then he got a text from Bob and i agreed to let him go with the boys on an adventure. a few hours later, he showed me this: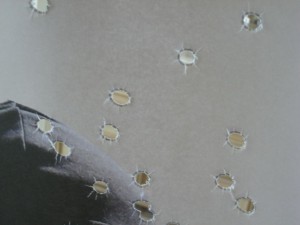 yep. they went to The Gun Store. and shot some guns. dave and jimmy shot a Beretta M9 (hand gun), a WW2 grease gun and another fully automatic rifle (perhaps an MP5?). bob shot some different weapons.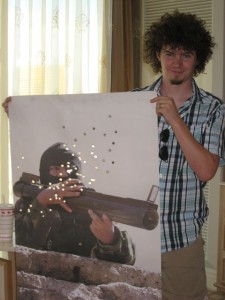 my biggest worry was weather or not any of them would get stopped by airport security for having gun powder or residue on their hands or shirts or shoes!
we spent the afternoon dinking around before our evening flight home. and, i am thankful to say, our flight home was much QUIETER than our flight TO vegas several days earlier. there were 3 people kicked off our flight…. rumor has it they were a bit inebriated.
while we really enjoyed the trip (we were REALLY spoiled), we decided that Vegas (or Henderson, a suburb) isn't the right fit for us and our family. we're willing to move there temporarily, if need be, but not permanently. and it was wonderful to come home to sleeping children and a day off (for dave) on Monday!
[for those of you wondering, our children were cared for by a combination of Grandpa&Grandma and our dear friend Carrilee. our children were well loved and well cared for during our adventure. we are SO THANKFUL to have had this opportunity!]