it's wednesday today. i'm very thankful that today is a VERY DIFFERENT day than monday and tuesday.
on monday, sam woke up feeling pretty crummy. by 2 she was downright miserable. and very, VERY wheezy. i am SO THANKFUL for our WONDERFUL family doctor who added us to the end of their business day. and it was VERY worth the trip. sam needed a nebulizer treatment (which she also had back in May):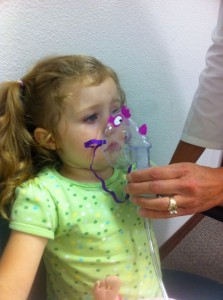 and we now own our own nebulizer to do these breathing treatments at home. poor girl.
thankfully she woke up on tuesday feeling MUCH better, though not back to normal. but davey woke up with a gnarly cough and a head cold. so i had to call Teacher Leslie and keep him out of school for the day (boo!).
as for Alex, she has been nothing but clingy and not-herself for over a week. i decided it was teething. i still think i'm right even though no new teeth have poked through yet. in the past 10 days, she's had fevers, runny nose, coughing, sleepless nights and all-around crabbiness. poor girl. i think she also has a VERY sore throat now. but her disposition is returning to her chill-and-laid-back-self, so i'm thankful for that.
and to top it all off, i've acquired some head cold and i've been the one to get up with Alex at night, so it's a brutal combination. but we ALL woke up this morning feeling about 100x better. THANK YOU JESUS, for bringing healing to our bodies!
today i finally finished a "to do" item from a list i created a month or so ago….. my ETSY shop once again has a few items in stock. i'm actively crafting but i'm just not getting many things into the shop. i have 5 shows coming up this fall and 2 of them are HUGE. yes. HUGE. so i've been busy spray painting and stitching and crimping and gluing for months. well, at least for weeks.

 i have LOTS of ideas and i'm trying very hard to FOCUS myself so i can be REALISTIC about what i can accomplish in the next few weeks and months.
dave is still busy, busy, busy with work. he played guitar in church on Sunday and his fingers were SORE. it has been YEARS since he's done that.