the ONLY good thing about alex's recent clingy-ness and teething and cold? the cuddles. lots and lots and lots of time in mommy's lap. and in mommy's arms. and cuddling up around mommy's neck. i LOVED those snuggles! every. single. one of them.
because you're going through withdrawal (nana, especially), here are a few photos of my sweetest little one (taken on Wednesday morning):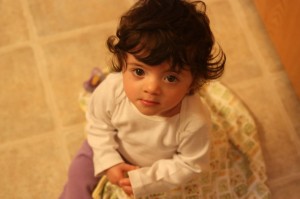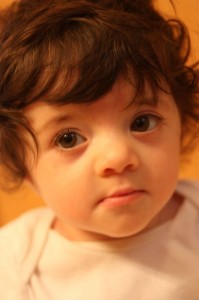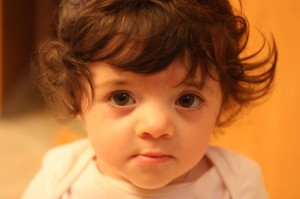 and despite what SOME people think, that is her REAL hair. ALL of it. curly. straight. and THICK. (and many, MANY thanks to my mother-in-law for "treating" Alex's on-going case of cradle cap while we were in Las Vegas for a weekend)! isn't she a sweetie (even though she doesn't smile much)?
and in case you're wondering, she's 14 months old and
- weighs a little over 17 pounds
- wears size 6-9 and 6-12 month clothing (though 9 month footy jammies are too short)
- eats bananas, cheerios, chicken, green beans, peaches, blueberries, watermelon, shredded pork…. pretty much anything soft
- can army crawl but hasn't figured out how to really crawl yet
- still prefers to be upright, on her feet
- can clap, wave, and raise her hands (well, at least one) above her head for "alex is SO BIG"
- says "buh bye" and "mama" and some gibberish
- will laugh harder and louder for her sister than for anyone else; davey comes in second; mom & dad are a very DISTANT third
- still wearing her size 0-6 month Pediped shoes
- has very NARROW feet
- still drinks milk from a bottle
- is not a fan of water or apple juice
- appears to get very frustrated quite easily