teacher Leslie has owned and operated her own pre school (My First School) out of her home for 27 years. she is now teaching the children of some of her first students! weird. and cool.
i found her through my dear friend Julie. Leslie is Julie's mom. she is calm, patient, caring, loving, fun, friendly, intelligent and so much more. i can hardly WAIT for davey to go to school every Tuesday and Thursday morning. not because i'm eager to get rid of him, but because i'm eager for him to have a little more Leslie in his life. i think that says a lot.
we didn't have a ton of extra time on his first day of school (tuesday, august 30, 2011), but i did have time to snap a few photos on the porch swing at our house:
and some sibling love: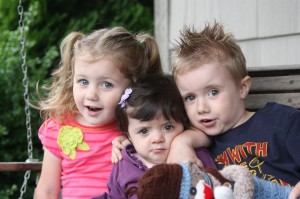 i had hoped this photo would be bigger. apparently i need to change the photo setting on my phone. but i LOVE this shot. he is SO EXCITED to go to school!

[the weather that day was pretty crummy. it rained, which spoiled my plans for fun with sam and alex. we were going to go to the park (one of sam's FAVORITE places) to make it a SPECIAL day for her, too. it was pretty hard for her to be at home with no play mate. she kept asking for davey - moments like that melt my heart. she's slowly getting used to having him gone for a few hours. she LOVES to go into school, though, to pick him up at the end of his day!]
we did make Rice Krispy treats just before we left to pick up davey from school. i thought he would enjoy a special "first day of school" treat after lunch (and this mommy was right)!