on a recent excursion with my mother-in-law, sisters-in-law and niece, i found some fun vintage/antique goodies down in Snohomish, Washington. not to be overlooked, i had a BETTER time spending a day SHOPPING & eating with my family. however, i didn't take any photos of our adventure. my mother-in-law has one of us in the restaurant, but she's on vacation right now so i can't get it from her to share it with you. perhaps at a future date? but on to the purchases….
for YEARS i've been obsessed with old gym locker baskets. i'm not sure why b/c the thought of old sweaty gym shorts or dirty underwear being stored in these things grosses me out quite a bit. but it doesn't stop me from LOVING the old metal. the endless possibilities of WHAT can be stored in them. that said, i about FLIPPED with excitement when i found THESE babies: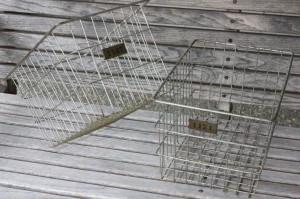 i was even MORE excited when i saw one of the locker numbers: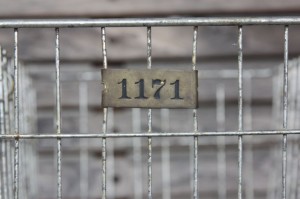 yep. that's my house number. and since our house is for sale and we want to move, this was the PERFECT find… a little reminder of our first home. so i bit the bullet and decided to pay $35 for the one basket. that was WAY overpriced, but it was just…. well, perfect.
when i checked out, however, it turned out that the $35 price tag was for BOTH of the baskets. yes. BOTH! big score for me!
the first thing i actually picked out in the store, however, was a Coca-Cola crate. my friend JULIE has been hunting all summer for a good one at a decent price. one booth had a LOT of them for $15 each… the cheapest price i've ever seen for a coke crate at an antique store! some were in horrible condition. others were pretty good. i took photos, sent them to Julie and talked to her on the phone. somehow, we narrowed it down to ONE crate.
until i checked out. that's when i learned they were 50% off! so instead of the one we picked out, i snagged a 2nd one for julie – who can resist a 2-for-the-price-of-1 deal?!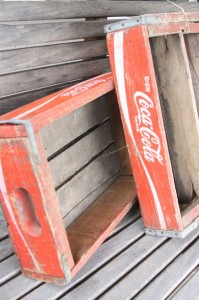 julie is pretty happy with me for this find! i can't wait to see what she does with them.
i also picked up a few blocks with the kid's initials and a few new "D" blocks (D for DUNKIN):
and another sewing drawer for display:
an old, metal number 5 (b/c we're a family of 5) stencil and a yard of an old tape measure: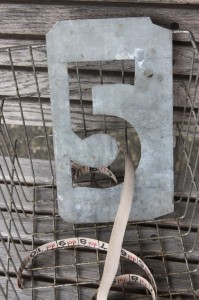 i think i did great. did i mention that the sewing drawer was 20% off (another thing i didn't find out until check out)?! seriously… it was my day!
but before i end this post, there was one more thing i found that i couldn't get out of my head: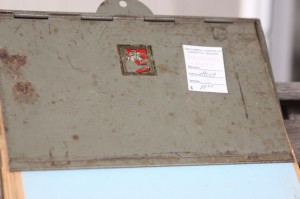 half of the tag read "conversation piece." the other half read "hotel _____" (i don't remember what else it was called). my curiosity was piqued. and the gears in my mind were turning and turning and turning… wondering, thinking, planning…
it was only $14 and i couldn't stop thinking about it. i kept trying to think of ways to re-invent it. and in the end, i bought it. and i need to do SOMETHING with it by the end of October (otherwise it'll sit around for months, if not years, before i just sell it the same way i bought it). but i'm still not quite sure WHAT to do with it. but i KNOW that i could make it REALLY COOL (but i could also end up doing something more "home crafted" than cool). if you have any ideas or thoughts, please share them.
oh yeah… and the bonus? that wacky hotel "conversation piece" was on sale for 20% off!
so it was a good day. it was a LOOOONG day. and dave stayed home from work to take care of the kids for me and i'm so thankful he did.